Ask Your State to Recognize Usher Syndrome Awareness Day
On July 29, 2015, the Usher Syndrome Coalition worked with Senator Ron Wyden and staff to get the third Saturday of September entered into the Congressional Record as Usher Syndrome Awareness Day. Danay Trest, Coalition Board Director, took our awareness efforts to the state level. In 2015, Danay submitted a proclamation request to Mississippi Governor Phil Bryant, who has recognized the third Saturday in September as Usher Syndrome Awareness Day each year since. Now let's make this happen in YOUR state.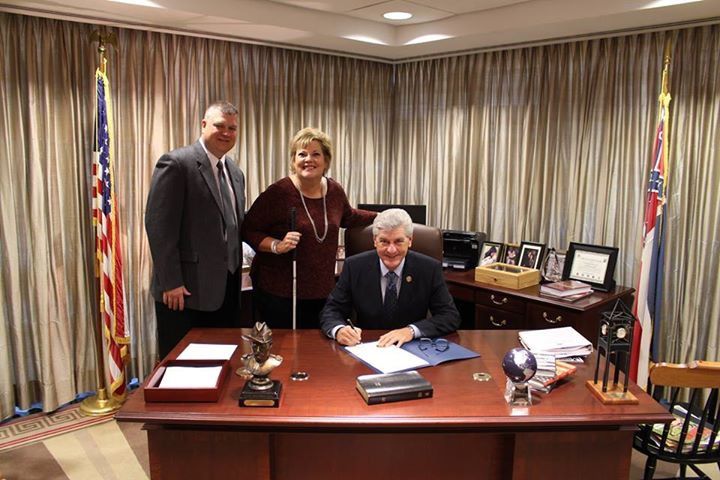 How to Submit a Proclamation Request:
Find your State Governor's website here.
Search "how to request or submit a proclamation." 
Submit your proclamation request for approval (sample language below).
If you're unable to find such information, feel free to email Danay at ambassador.ms@usher-syndrome.org. 
Here is sample language to get you started:
PROCLAMATION
WHEREAS, Usher Syndrome is a relatively rare genetic disorder caused by a mutation in any one of at least 11 genes resulting in a combination of hearing loss and visual impairment, and is a leading cause of combined deafness and blindness; and
WHEREAS, more than 400,000 people are affected by this genetic disorder worldwide, with at least 25,000 of those in the United States; and
WHEREAS, Usher syndrome, which is incurable presently, impacts three major senses in the body:
Vision: Vision loss in Usher syndrome is caused by a progressive vision disorder known as retinitis pigmentosa (RP).  RP causes the light-sensing cells in the retina to gradually deteriorate, initially resulting in night blindness, followed by a narrowing of the visual field, commonly known as tunnel vision.
Hearing: Children with Usher syndrome are born with or develop hearing loss. It is estimated that upward of 10 percent of people with congenital bilateral, sensorineural hearing loss have Usher syndrome.
Balance: Balance is achieved and maintained through input from your eyes, the vestibular organs in the inner ear and the sensory systems of the body, such as the skin, muscles and joints. Thus, people with Usher syndrome suffer from severe balance issues due to vestibular dysfunction; and
WHEREAS, there are three clinical types: Type 1, Type 2 and Type 3, which are distinguished by the severity and age when the signs and symptoms appear. There are at least eleven different genetic types of Usher syndrome, as determined by the genes that are involved. One cannot determine the genetic type by clinical testing, as DNA testing is the only reliable way of determining the true genetic type; and
WHEREAS, because of limited public awareness, those affected with Usher syndrome may suffer from depression, anxiety, isolation, loss of independence; and
WHEREAS, the Usher syndrome community is uniting around the world to spread public awareness but especially to be recognized annually the 3rd Saturday of September:
NOW, THEREFORE, I, [Governor's Name], Governor of the State of [Your State], do hereby designate September 16, 2023, as
USHER SYNDROME AWARENESS DAY
in the state of [Your State].
Click here to find your State Governor's website.
If you have any questions or need assistance, please do not hesitate to contact Danay Trest at ambassador.ms@usher-syndrome.org.