Walk4Hearing: 2023 Walk Locations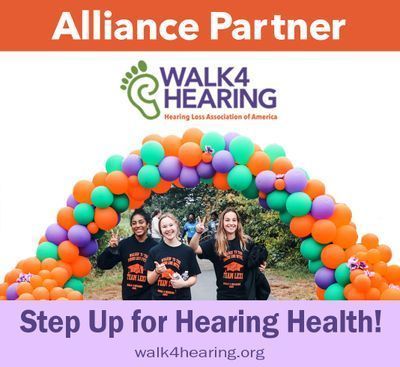 It's Time to Step Up for Hearing Health and join Walk4Hearing!
Usher Syndrome Coalition is proud to be a National Alliance of the 2022 Walk4Hearing, the only nationwide event bringing attention to hearing loss and promoting the importance of hearing health. We partnered with HLAA to celebrate and raise awareness across the country.  Will you join us? A portion of the funds your team raises will be directed to our organization – be sure to select "Usher Syndrome Coalition" when you register your team. Thank you for your support!
Learn more and register, https://bit.ly/3ryDsrE
The Hearing Loss Association of America (HLAA) Walk4Hearing is the largest walk of its kind taking place in multiple cities across the country. Every spring and fall thousands of walkers - children and their families, young adults, young at heart and everyone in between - form teams and walk in their communities to increase public awareness about hearing loss, help eradicate the stigma associated with it and raise funds for programs and services.

You can support the Usher Syndrome Coalition in your Walk4Hearing. Find a walk near you in the list to the left. To learn more and to get involved, click here.
How do I register online?
Go to www.walk4hearing.org and select the "Find A Walk" tab at the top of the page. Select the Walk Location that you would like to participate in.
Once on the specific Walk page, select how you wish to register on the right-hand side of the webpage (Register as a Team Captain and Start a Team, Register by Joining an Existing Team, or Register as an Individual).
During the registration process, you will be asked if you are a "Returning Walker" or "New Walker".
If you have previously participated in a Walk event before, then you are a "Returning Walker" and you can use the username and password from last year and click the Login button. If you have never participated in a Walk before, please select "New Walker".
Go through the registration process and you will notice that your contact information is already filled in if you selected "Returning Walker", and you will not be asked to select a username and password since you will continue to use the same ones. If you are a "New Walker" please complete the contact information form.
Complete your registration. During the registration process, you will have the option to select which organization you'd like a portion of the funds raised to go to. You can choose "Usher Syndrome Coalition" from the dropdown menu and the Usher community will benefit from your walk!