A Time for Hope: What's New with USH, November 2017
November 9, 2017
---
MESSAGE FROM THE CHAIRMAN
Thanks to everyone who rushed to our aid during our recent request for funding. I am sorry if I scared anyone. I should have stressed that the Usher Syndrome Coalition is not going anywhere! It's really just a question of the depth of services we will be able to provide the community. We are going to be there to respond to all requests. It's just a question of if we are going to respond immediately or eventually? We are going to continue to be the center of the Usher syndrome community. It's just a question of if we are going to be able to reach out to the community or are we going to have to wait for the community to reach out to us? And we will continue to be the primary source of information for those with Usher. It's just a question of if we are we going to hold both in-person and online forums or are we going to be forced to choose between them?
The point is, we will be here for the community regardless. And this call for funding only underscored the need for the Coalition. I received emails from as far away as South Africa and India, from people with Usher syndrome and little else, offering whatever they had to the Coalition. These are folks that often face tremendous financial and emotional hardship in parts of the world where services are scarce and discrimination is not. They rely on the Usher Syndrome Coalition, on this Usher syndrome community, for friendship, information, and hope. And thanks to the outpouring of support from you, we will continue to be there for them.
Mark Dunning
---
WATCH USH TALKS
Our latest USH Talks include research developments in USH2A and USH1B from Usher syndrome experts across the globe. Stay tuned for new USH Talks and more research updates!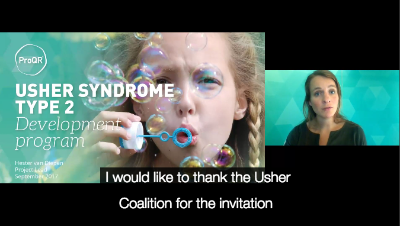 ProQR Usher Syndrome Type 2 Development Program | October 3, 2017: In this USH talk, Dr. Hester van Diepen provides an overview of the Usher development program at ProQR Therapeutics as an approach for possible future treatment of USH2A-associated retinitis pigmentosa.
Gene Therapy for MYO7A USH1B | June 27, 2017: This USH Talk from Dr. Shannon Boye summarizes efforts to develop a dual AAV vector-based gene therapy for Myosin7a Usher syndrome (USH1B). The drawbacks of USH1B mouse models and a rationale for testing these vectors in a more clinically relevant species are discussed.
Genetic Testing: the USH2A Gene | May 30, 2017: This USH Talk from Dr. Hannie Kremer explains genetic testing of the USH2A gene, as conducted at the Radboud University Medical Center in Nijmegen, Netherlands.
All USH Talks: View our full USH Talk Library on our website, or search all USH Talk text and audio on Panopto.
USH Talks deliver the latest in research developments and community stories directly to you. 
Subscribe to USH Talks: To subscribe using iTunes, click here. Even easier, search for 'USH Talks' in the Podcasts app on your iPhone or iPad. You can also subscribe to RSS here.
---
USH FAMILY MEMBER SPOTLIGHT
In collaboration with the Usher Syndrome Society, each What's New with USH newsletter will feature a member of the Usher syndrome community, our incredible USH Family.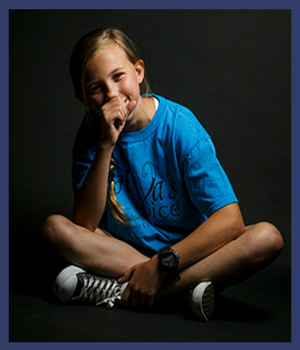 MEET AVA BULLIS
This month's spotlight is on Ava Bullis from New Jersey. Ava is an 11-year-old girl with Usher syndrome type 1B. Ava was born profoundly deaf at birth and is slowly going blind. Although Ava benefits from the use of her cochlear implants and a cane during the day, she is completely blind by night and communicates using tactile ASL alphabet and touch signals. Ava spends her free time sharing her story publicly through her mom's nonprofit, Ava's Voice, to advocate for all children with hearing and/or vision loss, especially those who may not have the ability to communicate on their own. She also enjoys meeting new parents to provide comfort and hope as their babies are newly diagnosed.
This photo is part of a series taken by New York Times photojournalist Evan McGlinn, on behalf of the Usher Syndrome Society and their Shine A Light On Usher Syndrome campaign to bring public awareness and funding to Usher syndrome.
The Usher Syndrome Coalition thanks Ava's Voice for supporting the Coalition's participation in the first-ever Network of the Americas Conference, hosted by Deafblind International and Perkins School for the Blind, April 15-18, 2018 on Cape Cod, Massachusetts.
---
EDUCATIONAL CONSIDERATIONS FOR STUDENTS WITH USHER SYNDROME
This webinar recording, "Educational Considerations for Students with Usher syndrome," from the National Center on Deaf-Blindness (NCDB) is now available.
The Usher Syndrome Coalition estimates that there are more than 7,000 children with Usher syndrome in the United States. Yet in 2015, the state deaf-blind projects reported that roughly 300 children with Usher syndrome were served. Where are these students being educated? And are their educational needs being adequately met? 
This 90-minute webinar recording features Family Engagement Coordinators Carly Fredericks and Patti McGowan, both parents of children with Usher syndrome, along with Nancy O'Donnell, Former Director of the USH Trust Registry. They share personal stories and informative resources. To watch, please go to: https://nationaldb.org/library/page/2700
---
27 DOWN, 73 TO GO!
This Giving Tuesday, become a monthly donor.
Thanksgiving is fast approaching in the U.S. That means the global day of giving is almost here! After a weekend busy with eating, visiting and shopping, Tuesday, November 28th is dedicated to Giving. This Giving Tuesday, sign up for a monthly donation to the Usher Syndrome Coalition. 
27 generous donors currently give at least $10 a month to the Usher Syndrome Coalition. (Shout out to our amazing monthly supporters!) Let's get to 100 recurring donations by the end of the day on Giving Tuesday! All you need to do is check the box to "Make this a monthly donation payment" when submitting your online donation. As a monthly supporter, you are ensuring that EVERYONE in our Usher community has access to the connections, information and hope that the Coalition provides.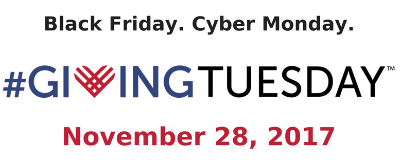 ---
WHEN YOU SHOP ON AMAZON, SUPPORT THE COALITION
Shop for everyone on your gift list this holiday at smile.amazon.com and Amazon will donate a percentage of your purchase to the Usher Syndrome Coalition. AmazonSmile is a simple and automatic way for you to support the Usher Syndrome Coalition every time you shop, at no cost to you. Be sure to bookmark this link and select the Usher Syndrome Coalition as your charity of choice!

---
INTERNATIONAL SYMPOSIUM ON USHER SYNDROME - USH2018
SAVE THE DATE: July 19-21, 2018 | Mainz, Germany
A broad alliance of institutions presents the 4th International Scientific Symposium on Usher Syndrome and the 10th Annual USH Connections Conference at the Atrium Hotel Conference Centre in Mainz, Germany, just a 20-minute train ride from the Frankfurt Airport.
Click here for more information. Online registration coming soon.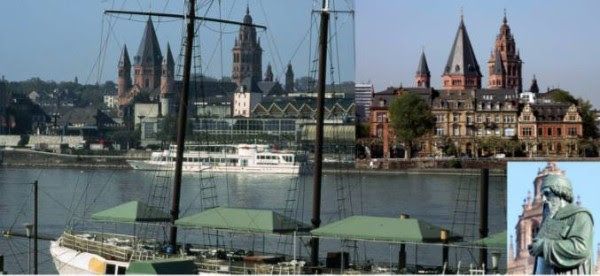 ---
2017 USHER SYNDROME AWARENESS DAY PROCLAMATIONS
In 2016, Coalition Board Director Danay Trest submitted a proclamation request to Mississippi Governor Phil Bryant, who recognized Saturday, September 17, 2016 as Usher Syndrome Awareness Day. 
Danay did it again during the 2017 Own the Equinox challenge and successfully guided others to make proclamations in their states and towns. Way to go, USH Family!
This year's Usher Syndrome Awareness Day proclamations include:
Danay Trest of Mississippi (Governor Phil Bryant)
Kadie Trauger of Pennsylvania (Governor Tom Wolf)
Audrey Chard of Idaho (Governor C.L. "Butch" Otter)
Tammy and Caroline Cerilli of Michigan (Governor Rick Snyder)
David, Nichole and Katheryn Hebert, and Elise Faucheaux of Louisiana (Governor John Bel Edwards)
Christine and Steven Myers of Mansfield, Ohio (Mayor Theaker)
The McKittrick Family of Washington (Governor Jay Inslee)
Jill Kennedy of Wisconsin (Governor Scott Walker)
Terry Blosser of Oregon (Governor Kate Brown)
The Root Family of North Coldwell, New Jersey (Mayor Joesph H. Alessi)
Kathy Thompson of Alabama (Governor Kay Ivey)
Robert Thomson, Carly Thompson-Fredericks, Pamela Aasen of New Jersey (Governor Chris Christie)
Together, we can recognize Usher Syndrome Awareness Day in all 50 states. Please consider requesting proclamations in your state or town in 2018. Find instructions here. 
---
HAVE YOU TAKEN YOUR 2017 IRA REQUIRED MINIMUM DISTRIBUTION (RMD) YET?
If you are 70½ years old or older, you can take advantage of a simple way to benefit the Usher Syndrome Coalition and receive tax benefits in return. You can give up to $100,000 from your IRA directly to a qualified charity such as ours without having to pay income taxes on the gift.
Your gift will be put to use today, allowing you to see the difference your donation is making.
This law no longer has an expiration date so you are free to make annual gifts to our organization this year and well into the future.
If you have not yet taken your required minimum distribution for the year, your IRA charitable rollover gift can satisfy all or part of that requirement. Learn more... 
---
RECENT USHER SYNDROME BLOG POSTS
FIXED | October 31, 2017 by Mark Dunning
Here in the world of Usher syndrome, we are torn asunder by the forces of the future. Everyone looks ahead to a time when there will be treatments, when there will be a cure, when things are fixed. Read more...
2017 OWN THE EQUINOX BLOG SERIES
STEM CELL TREATMENT ALERT: MORE (OR LESS) THAN MEETS THE EYE? | August 14, 2017 by Jennifer Phillips, PhD
A plea to the Usher syndrome community: do not rely on testimonials and press releases to influence your medical treatment decisions. Read more...
CLICK HERE TO READ OLDER USH BLOG POSTS. 
---

MODELING AND PREVENTING PROGRESSIVE HEARING LOSS IN USHER SYNDROME III | Published October 18, 2017
Ruishuang Geng, Akil Omar, Suhasini R. Gopal, Daniel H.-C. Chen, Ruben Stepanyan, Martin L. Basch, Astra Dinculescu, David N. Furness, David Saperstein, William Hauswirth, Lawrence R. Lustig & Kumar N. Alagramam
Researchers developed a new USH3 mouse model that displays delayed-onset progressive hearing loss, then tested a viral therapy to preserve hearing in the mouse models. Their results show that gene therapy is a promising approach to preserve hearing in USH3 patients. 
RESEARCHERS MAY HAVE DISCOVERED A WAY TO REVERSE BLINDNESS | Published October 5, 2017
Samantha R. De Silva, Alun R. Barnard, Steven Hughes, Shu K. E. Tam, Chris Martin, Mandeep S. Singh, Alona O. Barnea-Cramer, Michelle E. McClements, Matthew J. During, Stuart N. Peirson, Mark W. Hankins and Robert E. MacLaren
Oxford researchers have shown that gene therapy might help reverse blindness caused by retinitis pigmentosa by reprogramming cells at the back of the eye to become light sensitive. 
View the journal publication of this study: http://www.pnas.org/content/early/2017/09/26/1701589114
USHER SYNDROME: GENE THERAPY RESTORES HEARING AND BALANCE | Published September 27, 2017
Alice Emptoz, Vincent Michel, Andrea Lelli, Omar Akil, Jacques Boutet de Monvel, Ghizlene Lahlou, Anaïs Meyer, Typhaine Dupont, Sylvie Nouaille, Elody Ey, Filipa Franca de Barros, Mathieu Beraneck, Didier Dulon, Jean-Pierre Hardelin, Lawrence Lustig, Paul Avan, Christine Petit, Saaid Safieddine
Scientists have recently restored hearing and balance in a mouse model of Usher syndrome type 1G characterized by profound congenital deafness and vestibular disorders caused by severe dysmorphogenesis of the mechanoelectrical transduction apparatus of the inner ear's sensory cells. These findings open up new possibilities for the development of gene therapy treatments for hereditary forms of deafness.
APPLE AND COCHLEAR TEAM UP TO ROLL OUT THE FIRST IMPLANT MADE FOR THE IPHONE | Published July 31, 2017
Approved by the U.S. Food and Drug Administration in June, Cochlear's Nucleus 7 Sound Processor can now stream sound directly from a compatible iPhone, iPad or iPod touch to the sound processor.
CLICK HERE TO READ ALL ARCHIVED SCIENCE NEWS.
---
ADDITIONAL RESOURCES
The Usher Syndrome Coalition provides a number of other resources for families with Usher syndrome including:
The USH Trust and USH Blue Book
USH Blue Book Online Forum This private email group was created to provide a way for individuals in our USH Trust and the USH Blue Book to communicate with each other about topics related to Usher syndrome. The group's posts will be saved for future reference, creating a growing body of information from YOU.
Unraveling USH: A Genetic Testing Initiative - Get Genetic Testing
The Usher Syndrome Coalition website
A blog on Usher syndrome issues
Advocacy efforts to increase the visibility of Usher syndrome on Capitol Hill and at the National Institutes of Health (NIH)
You are welcome to take advantage of any and all of these resources.
---
ADA INFORMATION HOTLINE
The United States Department of Justice operates a toll-free Americans with Disabilities Act (ADA) Information Line to provide information and materials to the public about the requirements of the ADA.
If you'd like assistance understanding how the ADA applies to your situation, ADA Specialists are available Monday through Wednesday and Friday from 9:30 AM to 5:30 PM.
1-800-514-0301 (Voice)
1-800-514-0383 (TTY)
Calls are confidential
---
QUESTIONS?
CALL US
Toll Free: 1-855-998-7437 (1-855-99-USHER)
EMAIL US
Krista Vasi, Executive Director: k.vasi@usher-syndrome.org
Julia Dunning, Events Coordinator: j.dunning@usher-syndrome.org
---
INVEST IN THE USHER SYNDROME COMMUNITY
DONATE TO THE USHER SYNDROME COALITION
We are a 501(C)(3) Certified Organization. Your contribution is tax deductible. Tax ID: 26-4560897