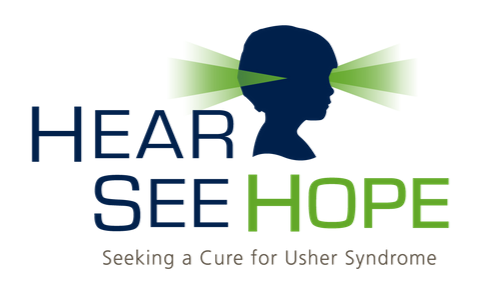 Usher Syndrome Awareness Day is in three days! As we look forward to celebrating our growing global community on Saturday, we reflect on the history of the Usher Syndrome Coalition and the organizations that make our work possible. We are proud to welcome founding member, Hear See Hope, as our USH Partner.
On a fall day in 2004, Lanya and Todd McKittrick's lives were forever altered. It was the day that they were told their now 20 year old first-born son had Usher syndrome and would someday go blind. That day, Lanya and Todd felt shocked and alone. At the time, the Usher Syndrome Coalition did not exist and it was difficult to connect with other people affected by Usher syndrome. Shortly after receiving this devastating news, the McKittricks started the Hear See Hope Foundation and have since raised almost $2 million for Usher syndrome research.
In 2007, the McKittricks met the Dunning family. This new connection between two families living with Usher syndrome clarified the need for a community and a collaborative network to complement research funding efforts. The idea for the Usher Syndrome Coalition was born.
Hear See Hope is a 501c3 nonprofit and a founding partner of the Usher Syndrome Coalition. Their mission is to support Usher syndrome research and awareness efforts. 
"The USH Coalition community is my family in more ways than I can explain. When I am down, they listen. When I am proud of something, they listen. I am so thankful for them. I think back to that day in 2004, when I felt so alone, and I'm happy that the opportunity to connect with others who understand what I am going through now exists.

Over the last 15 years, there have been significant research advances that would not have been possible without connecting the Usher community and researchers working towards treatments. Hear See Hope is excited to partner with the Coalition at a time when there is more hope for a cure than I have ever felt before."

- Lanya McKittrick, PhD, Mother of four boys, two who are living with Usher syndrome, Co-founder of Hear See Hope Foundation, Board Director of the Usher Syndrome Coalition, special education researcher focused on deafblindness.
The Usher Syndrome Coalition is honored and humbled to renew our longstanding collaboration with Hear See Hope. Promising days are ahead.
Welcome, Hear See Hope!