USHER IN A CURE: Help make a profound difference in the lives of thousands of children and adults
Saturday, September 18, 2021 is Usher Syndrome Awareness Day. Your voice helps make an impact across the country, and around the globe! 
The Need for Action:
Usher Syndrome Awareness Day seeks to bring attention and raise awareness of the most common genetic cause of combined deafness and blindness. Usher syndrome (USH) is a rare inherited disease – passing from parents to children -- that affects at least 25,000 people in the United States, and over 400,000 worldwide. Most children with Usher syndrome are born with moderate to severe hearing loss. Vision loss is progressive and usually occurs at a young age or through adolescence. The need for awareness is heightened by the global health crisis we have all experienced. The impact of a pandemic on a community that is already isolated lends greater urgency to our mission. We will continue to stress this urgency and advocate for increased federal funding for Usher syndrome research to make treatments a reality. 
Why September 18?
In 2015, the Usher Syndrome Coalition, an organization of individuals and families of children with Usher syndrome working to connect the global USH community, declared the third Saturday in September as our global "Usher Syndrome Awareness Day." This day falls near the autumnal equinox in the northern hemisphere, marking the start of days that contain more darkness than light - a powerful metaphor for the threat of Usher syndrome and our urgent mission.
Highlights from Usher Syndrome Awareness Day 2020
Official Recognition of Usher Syndrome Awareness Day:
State Proclamations designating September 19, 2020 as Usher Syndrome Awareness Day: Alabama, Maryland, Mississippi, Oregon, and Virginia. Special thanks to the members of our USH community who helped make this happen: Kathy Thompson (Alabama), Laura Ross (Maryland), Danay Trest (Mississippi), Meagan Moore (Oregon), and Girl Scout Troop 1673 and Peggy Borst (Virginia).  
Senator Ron Wyden, the original Member of Congress to get Usher Syndrome Awareness Day entered into the Congressional Record in 2015, brought us back full circle, highlighting Usher syndrome in his statement for the Congressional Record on October 22, 2020. Read Senator Wyden's statement here.
Representative Jim McGovern (MA) submitted a Statement for the Congressional Record. You can read McGovern's statement here.
#MeetUSH: 
Thank you for sharing your stories through social media about living with Usher syndrome during the current COVID-19 pandemic. If you want to catch up on the stories shared, they are highlighted on our Instagram account (@ushcoalition). Look for the Highlighted Stories labeled "UshDay2020"
Sense Stories:
The Usher Syndrome Society will be exploring life with Usher syndrome through a series of heartfelt conversations with those experiencing Usher syndrome from around the world. They will be sharing stories throughout the year and the first story is available to view here. 
Usher Syndrome Awareness Day in the Media:
USH Ambassador Pamela Aasen's sons, Ethan and Gavin Morrobel, were featured as two brothers with Usher syndrome in this article. (The brothers are also featured in our #MeetUSH stories on Instagram!)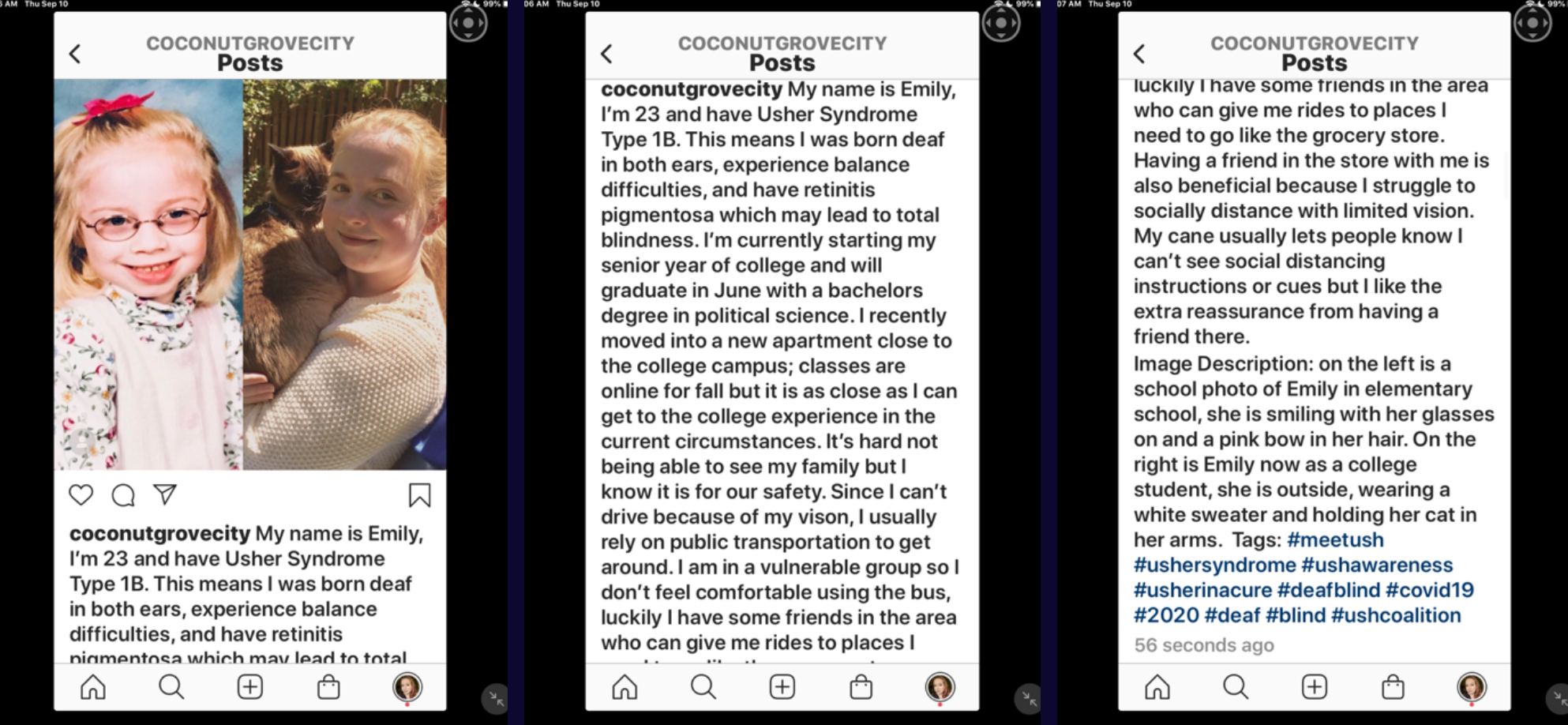 2019 Highlights
Take a look at some events that took place in 2019 in recognition of Usher Syndrome Awareness Day:
September 14: Camryn's Race for Usher Syndrome | Roanoke. Virginia
September 21: Celebrate with friends and ProTactile ROCKS!! | New York City, NY
September 21: 5 Points Music Foundation to Honor Usher Syndrome Awareness Day with Ana Popovic and New Initiative | Roanoke, Virginia
September 21: USH One See 5K & 10K | Lafayette, Louisiana 
September 21: Usher Syndrome Awareness Rally | National Stadium, Surulere, Lagos State, Nigeria
2019 Proclamations
USH Awareness Day Proclamation | Mississippi 
USH Awareness Day Proclamation | New Jersey

USH Awareness Day Proclamation | Middletown, NJ

USH Awareness Day Proclamation | Pennsylvania 
USH Awareness Day Proclamation | Wayne County, PA
USH Awareness Day Proclamation | Virginia 
USH Awareness Day Proclamation | Minnesota 
USH Awareness Day Proclamation | Washington
Are you planning any other events around Usher Syndrome Awareness Day? Let us know and we'll help spread the word!
Show the world how you are raising awareness for Usher syndrome in honor of our day. Share your efforts on Facebook, Twitter and Instagram using the hashtag #USHDAY. 
Thanks to your support and dedication to introducing the world to Usher syndrome, the Coalition is able to continue our work to help and connect all in our community. We look forward to celebrating this day with you.