What's New with USH, October 2016
October 13, 2016
---
TODAY IS WORLD SIGHT DAY!
World Sight Day (WSD) is an annual day of awareness held on the second Thursday of October, to focus global attention on blindness and vision impairment. 
MESSAGE FROM THE CHAIRMAN
We owned the equinox…again!  Thank you to everyone that participated in our second annual Own the Equinox event. This year, I was fortunate to witness the event from literally the other side of the world in Melbourne, Australia. I have to say that Australian Usher families are every bit as enthusiastic, energetic, positive, and inspiring as the families I have had the good fortune to meet in North America and Europe.  Must be in the genes!
My time overseas only reinforced my belief that the most valuable thing we can do to improve the lives of people with Usher syndrome is to connect them with this community. Like the Family Conference we held in Seattle, people poured in from all over Australia for the event in Melbourne until the venue was overflowing. People with Usher need this community for support, for information, and for hope. We need to find every one of them, get them in the USH Trust, and get them genetically tested. This growing community is the key to finding treatments and to happy lives for everyone with Usher syndrome.
Thanks to everyone who has participated in the Own the Equinox campaigns and thanks to everyone who has joined the USH Trust and engaged with the Usher community. You are making the lives of those with Usher syndrome better. 
Mark Dunning
---
THANK YOU!
Thanks to your steps walked, miles clocked and amazing outreach, you raised nearly $50,000 to support the Usher Syndrome Coalition! Most importantly, your awareness efforts brought Usher syndrome closer to global recognition.
It was inspiring to witness the various "a-thons" you held around the world, from spreading the word through awareness bracelets, to holding USH Family events, embarking on 500 mile treks, walking the equivalent of six (!) marathons and more.
By telling the world about Usher syndrome and what this challenge meant to you, you owned the equinox. Your countless tweets, retweets, posts and conversations brought us that much closer to global recognition of Usher syndrome. Your very personal efforts helped to spread awareness each and every one of the 26 days leading up to our second global Usher Syndrome Awareness Day.
Your investment in the Usher Syndrome Coalition enables us to provide numerous resources to the 400,000 people living with Usher syndrome worldwide, while speeding the search for a cure.
Proudly, we provide resources like the USH Trust, the largest international Usher syndrome registry in the world, and a vital tool for clinical trials that will one day lead to treatments and a cure.
None of this would be possible without you and your dedication to introducing the world to Usher syndrome. So, THANK YOU from the very bottom of our hearts. We look forward to seeing what creative ideas you come up with next year to Own the Equinox. Let's stop the sun from setting on our USH Family.
Check out the 2016 Own the Equinox Blog Series and more USHEQX highlights and happenings around the world. 
Save the Date for our next global Usher Syndrome Awareness Day, Saturday, September 16, 2017!​
---
Shine a Light on Usher Syndrome
In addition to these amazing Own the Equinox awareness efforts around the world, Kidz b Kidz (KbK) launched the Shine a Light on Usher Syndrome campaign, giving a face and voice to our community through photojournalism and art. 
The first goal of this campaign is to raise awareness of the importance of registering everyone living with Usher syndrome in the USH Trust. By doing so, we can all be prepared for the cutting edge research that is coming our way. Of the estimated 400,000 people worldwide living with Usher syndrome, the research community is in touch with less than 1%. We are working hard to change that.
With help from photojournalist Evan McGlinn, Kidz b Kidz (KbK) is compiling portraits of people living with Usher syndrome, accompanied by their personal stories and artwork. Since the launch of the Shine a Light on Usher Syndrome Art Parties, over 50 members of our USH family have been represented in this campaign, culminating in this beautiful awareness video.
Well on their way to achieving their second goal, Kidz b Kidz has raised $32,000 (and counting!) to fund the expansion of the USH Trust. Thank you, KbK!
---
ENTER THE RARE ARTIST CONTEST
We know we have more than a few brilliant artists in our USH Family. Here's your chance to show off your talents while bringing attention to the Usher syndrome community!
The EveryLife Foundation for Rare Diseases is pleased to announce the 8th annual Rare Artist contest, which celebrates the unique talents of the rare disease community. Each artist may enter one piece in the contest, and two awards will be given out in each category: one by popular vote and one decided by a panel of rare disease community leaders. The deadline for entries is December 5th, 2016.
The EveryLife Foundation will also highlight organizations with 10 or more participants in this year's contest so be sure to let us know when you submit your entry! Message us on our Facebook page or email Krista at k.vasi@usher-syndrome.org with the artist's name and category. Good luck!
---
COMING SOON: USH TALKS
USH Talks is a new podcast for the Usher syndrome community that will bring everyone - researchers, families and those living with the genetic disorder - together. We will share the latest in research developments and community stories right to your devices.
---
USH2016 FAMILY CONFERENCE SUMMARY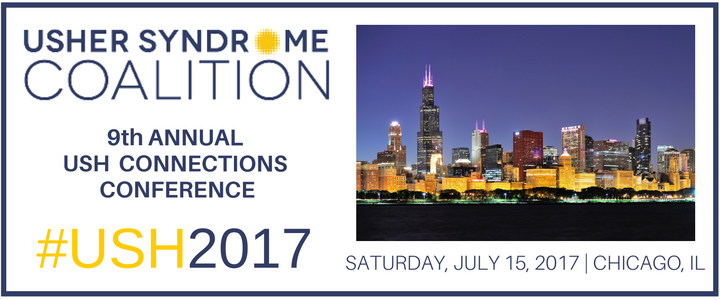 Looking to catch up on the USH2016 conference happenings? Check out the transcript, program, presentation slides and more from our 8th annual conference held in Seattle on July 9, 2016, our first sold-out event!
Live tweets from #USH2016 were also storified in chronological order by Dr. Jen Phillips.
SAVE THE DATES! Same Event, New Name
Starting next year, the Usher Syndrome Family Conference will have a new name:
USH CONNECTIONS CONFERENCE
USH2017: 9th ANNUAL USH CONNECTIONS CONFERENCE | JULY 15, 2017 | CHICAGO, ILLINOIS
This one-day annual conference is the largest gathering in the Usher syndrome community. It's also an incredible opportunity to learn the latest on the developing treatments for USH from leading researchers, while connecting with others in your USH family.
USH2018: INTERNATIONAL SYMPOSIUM ON USHER SYNDROME and the 10th ANNUAL USH CONNECTIONS CONFERENCE | JULY 19-21, 2018 | MAINZ, GERMANY
---
GET GENETIC TESTING
UNRAVELING USH: AN USHER SYNDROME GENETIC TESTING INITIATIVE
Unraveling USH is a collaborative effort between the Usher Syndrome Coalition and the Stephen A. Wynn Institute for Vision Research at the University of Iowa to ensure everyone with Usher syndrome has access to genetic testing. Unraveling USH seeks to provide guidance and affordable testing to people who have been unable to get genetic testing in the past, either due to lack of access or financial barriers. This initiative will help to fulfill the Usher Syndrome Coalition's goal to identify everyone with Usher syndrome worldwide, while offering state-of-the-art genetic testing through the John and Marcia Carver Nonprofit Genetic Testing Laboratory at the University of Iowa.
Learn more about how to participate and visit our Q&A page to learn about the importance of genetic testing and other frequently asked questions.
---
JOIN THE USH TRUST, THE LARGEST INTERNATIONAL USHER SYNDROME REGISTRY IN THE WORLD.
Usher syndrome is the most common genetic cause of combined deafness and blindness. The Usher Syndrome Coalition is the only organization in the world seeking to identify and support individuals with Usher syndrome and their families.
People with Usher syndrome have told us they want information, treatment and a cure. Researchers have the same goals. Yet the biggest challenge we face is connecting these two communities.
Of the estimated 400,000 people worldwide living with Usher syndrome, the research community is in touch with less than 1%.
We are working hard to change that.
The Usher Syndrome Coalition has created three valuable resources to address these needs:
USH Trust (formerly known as the International Usher Syndrome Registry) – A confidential, simple and secure place for everyone with Usher syndrome to sign up, be connected, be informed and be involved. By being part of the USH Trust, you will be the first to know about clinical trials. Click here to join the USH Trust.
USH Blue Book (formerly known as the Family Network) – connecting individuals with Usher syndrome, family members, friends and others in a global network of support. Click here to join the Blue Book.
USH Yellow Book – a centralized directory of USH researchers and resources worldwide. Click here to view the USH Yellow Book.
Learn more: In MediaPlanet's latest Vision & Hearing campaign, Nancy O'Donnell, director of the USH Trust, reminds us of the importance of being recognized as someone with - or a parent of a child with - Usher syndrome.
You can learn more about Nancy in her blog post, Calling all Experts, also available as a signed vlog on our YouTube channel.
Nancy can be reached at n.odonnell@usher-syndrome.org, Voice:1-855-998-7437, option 1 or Videophone: 1-631-533-9621
---
HELP GAIN VISIBILITY FOR USHER SYNDROME
Please take a couple minutes to tell others about your experience with the Usher Syndrome Coalition. By reviewing us on GreatNonprofits and sharing how the Coalition community has had a positive effect on your life, you are helping Usher syndrome get the attention it deserves.
Please share your experience at: 
greatnonprofits.org/org/usher-syndrome-coalition
Thank you in advance!
---
RECENT USHER SYNDROME BLOG POSTS
2016 Own the Equinox Blog Series | July 31-September 17, 2016 by various authors
Last year we said we needed an Usher Syndrome Awareness Day. Then we went out and got one. Read more..
The Easiest Way to Lower the Cost of Treatments | October 13, 2016 Mark Dunning
Good news! There are a LOT of potential treatments coming for people with Usher syndrome. Read more...
Something About Mary | August 31, 2016 by Mark Dunning
Mary O'Brien was not a doctor. She wasn't a professional in the field. She didn't even have a family member with Usher syndrome. But she had a knack for treating Bella, for helping her deal with Usher syndrome. Read more...
Promises | July 5, 2016 by Kate Morell
Poetry and prose by Kate Morell reflecting on the role Usher syndrome has played in her life. Read more...
CLICK HERE TO READ OLDER USH BLOG POSTS. 
---
LATEST RESEARCH NEWS
CEP78 is Mutated in a Distinct Type of Usher Syndrome | Journal of Medical Genetics | Published: September 14, 2016
Qing Fu, Mingchu Xu, Xue Chen, Xunlun Sheng, Zhisheng Yuan, Yani Liu, Huajin Li, Zixi Sun, Huiping Li6, Lizhu Yang, Keqing Wang, Fangxia Zhang, Yumei Li, Chen Zhao, Ruifang Sui, Rui Chen
"This study aimed to identify the novel disease-causing gene of a distinct subtype of Usher syndrome. Read more...
The Protein E3 Ligase Ubr3 Regulates Usher Syndrome and MYH9 Disorder Proteins in the Auditory Organs of Fruit Flies and Mammals | General Research News | Published: June 22, 2016
Tongchao Li, Nikolaos Giagtzoglou, Dan Eberl, Sonal Nagarkar-Jaiswal, Tiantian Cai, Dorothea Godt, Andrew K Groves, Hugo J Bellen.
"Myosins play essential roles in the development and function of auditory organs and multiple myosin genes are associated with hereditary forms of deafness. Our work reveals a novel mechanism that regulates protein complexes affected in two forms of syndromic deafness and suggests a molecular function for Myosin IIa in auditory organs." Read more...
CLICK HERE TO READ ALL ARCHIVED SCIENCE NEWS.
---
ADDITIONAL RESOURCES
The Usher Syndrome Coalition provides a number of other resources for families with Usher syndrome including:
The USH Trust and USH Blue Book
USH Blue Book Online Forum This private email group was created to provide a way for individuals in our USH Trust and the USH Blue Book to communicate with each other about topics related to Usher syndrome. The group's posts will be saved for future reference, creating a growing body of information from YOU.
Unraveling USH: A Genetic Testing Initiative - Get Genetic Testing
The Usher Syndrome Coalition website
A blog on Usher syndrome issues
Advocacy efforts to increase the visibility of Usher syndrome on Capitol Hill and at the National Institutes of Health (NIH)
You are welcome to take advantage of any and all of these resources.
---
ADA INFORMATION HOTLINE
The United States Department of Justice operates a toll-free Americans with Disabilities Act (ADA) Information Line to provide information and materials to the public about the requirements of the ADA.
If you'd like assistance understanding how the ADA applies to your situation, ADA Specialists are available Monday through Wednesday and Friday from 9:30 AM to 5:30 PM.
1-800-514-0301 (Voice)
1-800-514-0383 (TTY)
Calls are confidential
ADA Links and Resources
---
QUESTIONS?
CALL US
Toll Free: 1-855-998-7437 (1-855-99-USHER)
Toll: 1-978-637-2625
Videophone: 1-631-533-9621
EMAIL US
Krista Vasi, Executive Director: k.vasi@usher-syndrome.org
Nancy O'Donnell, Registry Director: n.odonnell@usher-syndrome.org
Julia Dunning, Events Coordinator: j.dunning@usher-syndrome.org
---
Our Contact Information
Usher Syndrome Coalition 
2 Clock Tower Place, Suite 418
Maynard, MA 01754
1-978-637-2625
http://usher-syndrome.org/