What's New with USH, February 2017
February 14, 2017
---
MESSAGE FROM THE CHAIRMAN
We can't thank you enough for your kindness and confidence in our work over the past year. This community, our USH family, continues to grow larger and stronger each day. And it's thanks to you that the Usher Syndrome Coalition was able to reach many new milestones in 2016. (Check out some of our proudest accomplishments highlighted below.)
We have a lot of work to do, but we're excited about all that 2017 will bring. And thanks to partners like you, we face the challenges ahead with renewed energy and optimism. We will keep working to identify and connect you, and all 400,000+ people living with Usher syndrome worldwide, with researchers, vital information, and others in the Usher syndrome community.
Mark Dunning
---
2016: A LOOK BACK
"This organization brings the entire community together including family members, caregivers, researchers, clinicians, decision-makers, as well as those with Usher syndrome. By bringing everyone to the table, the Coalition is able to provide support and move us all closer to therapies that will make a difference." - USH Family Member
The USH Trust, the Coalition's international registry, grew by over 25% and supported several scientists who needed access to people with Usher syndrome;
Over 200 people learned about the latest research at the 8th Annual Usher Syndrome Family Conference, our first sold-out event; 
We launched USH Talks, a new podcast delivering the latest in research developments and community stories directly to you.
Worldwide support resulted in another successful Own the Equinox Awareness Campaign and Usher Syndrome Awareness Day;
The USH Blue Book Online Forum, a private email group was created to provide a way for individuals in our USH Trust and the USH Blue Book to communicate with each other about topics related to Usher syndrome. The group's posts will be saved for future reference, creating a growing body of information from YOU!
We were a 2016 Top-Rated Nonprofit by GreatNonProfits and reached GuideStar Gold Status.


---
YOU'RE INVITED TO THE USH CONNECTIONS CONFERENCE
"I tend to shy away from seeking out information and advancements...Coming here made me feel that progress was happening and that in my lifetime, there may be a cure. [USH2016] brought people together that otherwise would have never connected." - 2016 Conference Attendee
USH2017: 9th ANNUAL USH CONNECTIONS CONFERENCE | JULY 15, 2017 | CHICAGO, ILLINOIS
Please join us at the largest gathering in the Usher syndrome (USH) community! 
You will have an incredible opportunity to learn the latest on developing treatments from leading USH researchers while connecting with over 200 impacted individuals, their families, and professionals serving the deafblind community.
This year's Conference will feature Keynote Speaker Edwin M. Stone, MD, PhD. Dr. Stone, named to the Top 100 Most Influential People in Ophthalmology, is a professor of ophthalmology and visual sciences at the University of Iowa and the director of the Wynn Institute of Vision Research, home of the William Kimberling Usher Research Laboratory.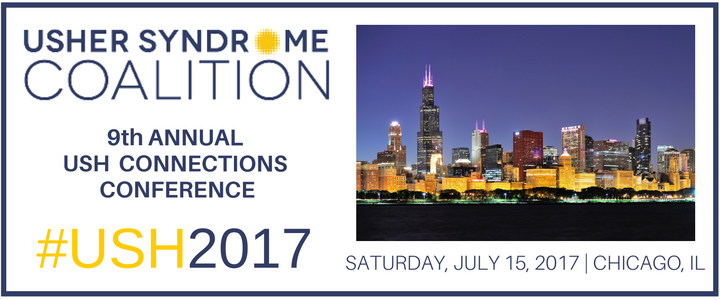 Register online or download the 2017 Registration Form. Complete and mail this form with payment by June 2, 2017 to:
Usher Syndrome Coalition
2 Mill & Main Place Suite 418
Maynard, MA 01754
Save the Date for USH2018: International Symposium on Usher Syndrome and the 10th Annual USH Connections Conference | July 19-21, 2018 | Mainz, Germany
---
USH TALKS: PROVIDING INFORMATION, CONNECTIONS AND HOPE
NEW video podcast for the Usher syndrome community! USH Talks deliver the latest in research developments and community stories directly to you. 
Gene Therapy for Usher Syndrome Type 1C | February 6, 2017: Dr. Gwen Géléoc shares exciting news on progress made towards gene therapy for USH1C, which restored hearing in deaf mice down to a whisper.
The RUSH2A Study, an USH2A Natural History Clinical Trial | January 24, 2017: Dr. Jacque Duncan on a new clinical trial that aims to study the rate of progression of USH2A related retinal degeneration.
Usher Syndrome and Cochlear Implants | December 27, 2016: Dr. Marly Kenna provides a basic overview of cochlear implants and how those with Usher syndrome might benefit from this technology.
Genetics 101 | December 13, 2016: Karmen Trzupek, Certified Genetic Counselor, provides a basic overview of genetics and Usher syndrome.
Gene Therapy 101 | November 29, 2016: In our first USH Talk, Dr. Jennifer Phillips provides a basic overview of gene therapy and Usher syndrome.
View our full USH Talk Library on our website, or search all USH Talk text and audio on Panopto.
Subscribe to USH Talks: To subscribe using iTunes, click here. Even easier, search for 'USH Talks' in the Podcasts app on your iPhone or iPad. You can also subscribe to RSS here.

---
NATIONAL FAMILY NEEDS ASSESSMENT
Attention families with children, ages birth to 21, with Usher syndrome living in the United States. The National Center on Deaf-Blindness (NCDB) is requesting your feedback on what has been helpful for you in raising and supporting your child with Usher syndrome, and what additional supports you would find useful. The results of this national survey will assist the state deaf-blind projects, NCDB and family organizations in future planning. All results will be kept confidential and anonymous.
We know that there are thousands of children with Usher syndrome in the United States, but just a few hundred are currently receiving services. Please pass this information on to anyone you know who has a school age child with Usher syndrome and ask them to fill out this survey. This is a great opportunity for your voices to be heard! Please submit the survey by February 17, 2017. 
Here is the link to participate in English.
En Español: (Esperamos recibir sus comentarios antes del 17 de febrero de 2017) Encuesta sobre necesidades: Encuesta nacional para familiares de niños que padecen sordoceguera
---
NEW PARENT SUPPORT GROUP FOR FAMILIES IN NJ, NY AND PA
On February 25th, Ava's Voice will hold their first Usher Syndrome Parent Circle gathering. Parents can eat, share, ask and learn in a comfortable atmosphere while connecting with other parents and guardians. There will also be an opportunity to ask questions during a student panel discussion, composed of three children successfully managing Usher syndrome aged 11,12 & 15. RSVP to avasvoice@gmail.com Please note childcare will not be provided.
Saturday, February 25th
11:00 - 2:00 PM
Harbortown Clubhouse Blvd
Perth Amboy, NJ 
Lunch will be provided.
RSVP to avasvoice@gmail.com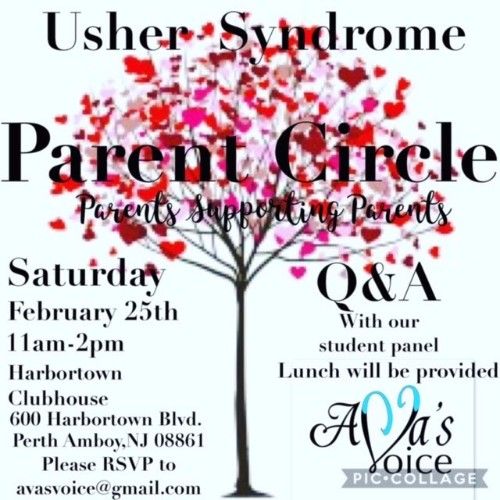 ---

GENE THERAPY RESTORES AUDITORY AND VESTIBULAR FUNCTION IN A MOUSE MODEL OF USHER SYNDROME TYPE 1C |  Published: February 6, 2017
Working with a mouse model of a human mutation, Dr. Gwen Géléoc and colleagues delivered a normal copy of the USH1C gene to the inner ear soon after the mice were born, which led to robust improvements enabling profoundly deaf and dizzy mice to hear sounds at the level of whispers and recover proper balance function. (Watch Dr. Géléoc's USH Talk about this unprecedented progress here.) Read more...
A SYNTHETIC AAV VECTOR ENABLES SAFE AND EFFICIENT GENE TRANSFER TO THE MAMMALIAN INNER EAR | Published: February 6, 2017
Two back-to-back papers in Nature Biotechnology describe how a team at Boston Children's Hospital and Harvard Medical School developed a new vector for gene delivery and restored hearing and balance in a mouse model with the Ush1c mutation. Read more...
FOUNDATION FIGHTING BLINDNESS SUPPORTING CLINICAL DEVELOPMENT OF NACA, PROMISING NEW DRUG FOR MANY FORMS OF RP | Published: January 23, 2017
(Columbia, MD) -The Foundation Fighting Blindness Clinical Research Institute (FFB-CRI) has announced an investment of up to $7.5 million to advance a promising, emerging drug treatment for retinitis pigmentosa (RP) into and through a Phase II clinical trial. Read more ... 
NEW GENE-EDITING TECHNOLOGY PARTIALLY RESTORES VISION IN BLIND ANIMALS | GENE THERAPY | Published: November 16, 2016
Researchers have discovered a holy grail of gene editing -- the ability to, for the first time, insert DNA at a target location into the non-dividing cells that make up the majority of adult organs and tissues. The technique, which the team showed was able to partially restore visual responses in blind rodents, will open new avenues for basic research and a variety of treatments, such as for retinal, heart and neurological diseases. Read more...
CLICK HERE TO READ ALL ARCHIVED SCIENCE NEWS.
---
RECENT USHER SYNDROME BLOG POSTS
WHERE IS EVERYBODY? STARTING A NATIONAL DIALOGUE ON FINDING CHILDREN WITH USHER SYNDROME | January 20, 2017 by Nancy O'Donnell

Children with Usher syndrome will be the major beneficiaries of research on Usher syndrome. But where are these children? Nancy O'Donnell, Director of the USH Trust, ponders this question in an upcoming webinar hosted by the National Center on Deaf-Blindness. Read more ...
THE CLOSET | December 23, 2016 by Annmaree Yee
Family physician, Annmaree Yee, shares what it was like coming out of the closet with Usher syndrome. Read more...
UNITED | December 6, 2016 by Mark Dunning
So here we are, a group of diverse people, angry, frustrated, worried, and shocked. Yet, despite all of that, we here in the Usher Syndrome Community have NEVER been more united. Read more...
DOING WRONG RIGHT | November 15, 2016 Mark Dunning
Mark Dunning describes how the one thing he did right as a parent is all the stuff he did wrong. He failed. Often miserably. Read more...
CROSSROAD | November 3, 2016 by Kate Morell
Usher syndrome has brought Kate to a crossroad, but she is determined to choose the right path. Read more...
CLICK HERE TO READ OLDER USH BLOG POSTS. 
---
ADDITIONAL RESOURCES
The Usher Syndrome Coalition provides a number of other resources for families with Usher syndrome including:
The USH Trust and USH Blue Book
USH Blue Book Online Forum This private email group was created to provide a way for individuals in our USH Trust and the USH Blue Book to communicate with each other about topics related to Usher syndrome. The group's posts will be saved for future reference, creating a growing body of information from YOU.
Unraveling USH: A Genetic Testing Initiative - Get Genetic Testing
The Usher Syndrome Coalition website
A blog on Usher syndrome issues
Advocacy efforts to increase the visibility of Usher syndrome on Capitol Hill and at the National Institutes of Health (NIH)
You are welcome to take advantage of any and all of these resources.
---
ADA INFORMATION HOTLINE
The United States Department of Justice operates a toll-free Americans with Disabilities Act (ADA) Information Line to provide information and materials to the public about the requirements of the ADA.
If you'd like assistance understanding how the ADA applies to your situation, ADA Specialists are available Monday through Wednesday and Friday from 9:30 AM to 5:30 PM.
1-800-514-0301 (Voice)
1-800-514-0383 (TTY)
Calls are confidential
ADA Links and Resources
---