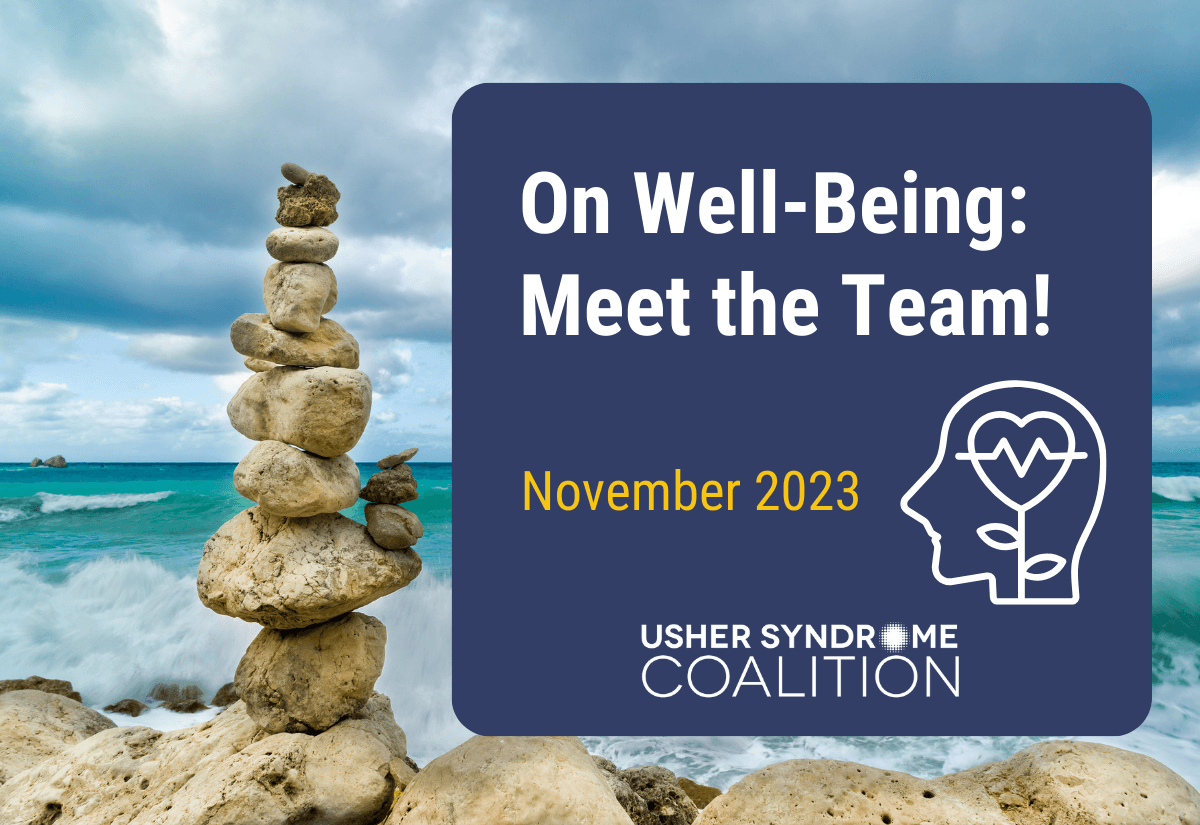 As we celebrate a year of Grounded in Science Newsletters, we recognize that we touch on tough topics monthly. In the interest of transparency, we want to introduce you to the team behind the Grounded in Science and Well-Being series. This group, from diverse backgrounds, reports relevant research to the community.
Meet Lawreen Asuncion: Lawreen graduated with a Bachelor's Degree in Biological Sciences and has worked professionally in the biotech and life science markets for over 25 years. Having Usher syndrome type 2C, Lawreen is passionate about fostering awareness around Usher syndrome and supporting research for rare genetic diseases.
Meet Rya Freeland-Kiablick, MSW: Rya graduated with a Master's in Clinical Social Work from Boston College in 2013 and has worked as a mental health clinician for individuals throughout their lifespan. She is a mother of a child with Usher Type 1 and provides context from both a personal point of view and a professional point of view. "It is important for me to be involved with the Usher community because it provides my family with support as well as a greater awareness of experience and needs. As a social worker and a parent, I am an advocate, and I understand the importance of addressing the topic of mental health within this community."
Meet Monica Pruitt: Monica graduated with a Bachelor of Science in Biochemistry and Molecular Biology and has Usher syndrome type 2. "I write speaking from my own experience coping with the diagnosis as well as what I've observed in the community." Combining her technical science training with her personal mental health journey makes her a well-rounded writer, writing from experience and backing it with peer-reviewed journal references.
Meet Lisa Rowinski: Our Well-Being series copy editor, Lisa Rowinski, NIC, MA, is a nationally certified ASL interpreter with a Master's Degree in Counseling. Lisa has worked with folks in the USH community in a variety of capacities, from case management to interpreting, to counseling. Lisa has a special interest in the DeafBlind community and continues to read, attend workshops, and study the mental health and linguistic/communication needs of this diverse community. Lisa is also a certified Pilates instructor and believes that movement of any kind is a great benefit to everyone's physical and mental health!
Meet Kayleigh To: Kayleigh graduated with a Master's in Public Health and has a strong interest in health policy. She interned at the Usher Syndrome Coalition before moving on to a volunteer position. Her work at the Coalition has driven Kayleigh to be eager to spread awareness and help out the Usher community in any way she can.
Meet Krista Vasi: Krista graduated with a Master's in Public Administration, with a focus on nonprofit management, from the Maxwell School of Syracuse University in 2008. As the Usher Syndrome Coalition's Executive Director, Krista manages the Grounded in Science News Committee and the Well-Being series and is an editor for this newsletter.
It's valid to feel nervous or uneasy when talking about mental health. But the reality is it helps more than it hurts. As our beloved "neighbor," Mister Fred Rogers once said:
"Anything that's human is mentionable, and anything that is mentionable can be more manageable. When we can talk about our feelings, they become less overwhelming, less upsetting, and less scary."