USH Ambassador for Texas
Robyn Culpepper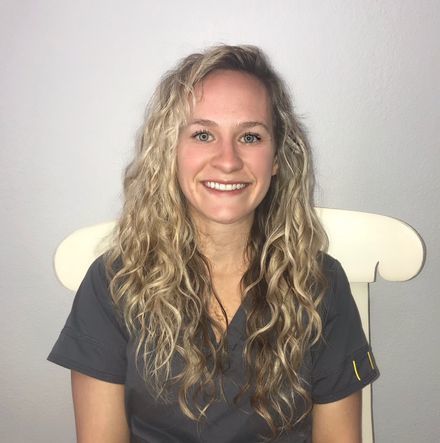 Growing up, I never knew anything was different about myself other than wearing hearing aids. I was lucky to have my hearing loss caught at birth and was amplified by 9 months of age. I grew up playing all kinds of sports such as soccer, softball, gymnastics, basketball, and volleyball. I enjoyed being in percussion from a young age until I finished high school. When I turned 15, I began noticing some difficulty seeing at night, tripping over things on the ground, and struggling while I was batting in softball. We scheduled a visit to my optometrist and a visual field test was performed, revealing retinitis pigmentosa in the early stages. That one visual field began the snowball of my test battery. 
Head CTs, MRIs, and genetic testing were ordered. There were some unknowns about my family history, but no one else had been diagnosed with a hearing loss or vision difficulties similar to what I was experiencing. Each test began to come back negative for any results. My senior year of high school, I was finally able to have my genetics fully tested, knowing the results could take up to a year. 
Three days after turning 18, we received the phone call with the results of Usher Syndrome type 2A. My world completely shattered and my family was shattered from the news. I was about to go off to college with a heartbreaking diagnosis. I struggled to find myself throughout my undergraduate education, but I leaned hard into my family, friends, and support system. I have been living to the fullest with my diagnosis. I am now married, working toward finishing up my doctoral education to become an audiologist. My diagnosis has led to many irreplaceable friendships in the USH Community that I am beyond lucky to have. I cannot wait to see where the future of Usher Syndrome takes us all!  
Contact Robyn at: ambassador.tx2@usher-syndrome.org
Resources for Texas
The Texas DeafBlind Project provides technical assistance, information, and training to address the early intervention, special education, related services, and transitional services needs of children with DeafBlindness and enhance state capacity to improve services and outcomes for children and their families.

Program and services for youth and adults with combined vision and hearing loss.

Provides free telecommunication evaluation, equipment, and training to children and adults with significant vision and hearing loss who qualify. iCanConnect is a national program authorized under the National Deaf-Blind Equipment Distribution Program.

USH Ambassador Robyn Culpepper describes her life, career choice, advocacy, grief, dating and marriage, finding a support system, and genetic testing information.

Relay Conference Captioning (RCC) service enables you to actively participate in conference calls, video meetings and webinars. With RCC, you can read live captions via a web browser on your computer, laptop, tablet or mobile device. You have the option of either speaking or typing to communicate with the other attendees. This service is designed for people who are Deaf, Hard of Hearing, or those with a Speech Disability. There is no cost to use the service for people who live or work in Texas.

A national volunteer organization created to empower the voices of families of individuals who are deaf-blind and to advocate for their unique needs.