USH Ambassador for New York
Michele Tamasi
Hi! My name is Michele Tamasi. I was diagnosed when I was 19 years old with Usher Syndrome Type 2. I wear hearing aids and can communicate with spoken English and American Sign Language. Now, I am 35 years old, and work full-time for ACCES-VR (Vocational Rehabilitation) as a counselor assistant. Being exposed to a  work field that provides so many resources led me to Commission for the Blind and Helen Keller National Center. Living with Usher is a daily struggle, but we all have to find ways to cope and push forward - hence why I started my own little baking business from home. Baking to me is my outlet, when things tend to get overwhelming/stressful, baking helps give me a sense of calm and peace. It's important to remind oneself that life is meant to be lived and not feared. Building a community with a strong support system can lead to so many positive outlooks. 
Contact Michele at: ambassador.ny@usher-syndrome.org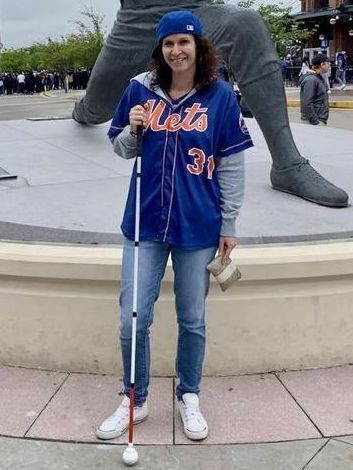 Resources for New York
For infants and toddlers with disabilities and their families. First created by Congress in 1986 under the Individuals with Disabilities Education Act (IDEA), the EIP is administered by the New York State Department of Health through the Bureau of Early Intervention. To be eligible for services, children must be under 3 years of age and have a confirmed disability or established developmental delay, as defined by the State, in one or more of the following areas of development: physical, cognitive, communication, social-emotional, and/or adaptive.

NYDBC is a statewide federally funded grant that provides support to schools, agencies, professionals and families on behalf of children and young adults with both hearing and vision loss between the ages of 0–21. Anyone in New York State can access NYDBC as a resource on deaf-blindness. All services are free and do not conflict with services listed on the Individualized Education Program that is supported through the school district. NYDBC maintains a statewide child count of children and youth with combined hearing and vision loss, provides training to families and professionals and acts as a resource on deaf-blindness.

Program and services for youth and adults with combined vision and hearing loss.

Provides free telecommunication evaluation, equipment, and training to children and adults with significant vision and hearing loss who qualify. iCanConnect is a national program authorized under the National Deaf-Blind Equipment Distribution Program.

Offers a comprehensive, interdisciplinary approach to hearing healthcare through specialized clinical and support services for adults and children.

A national volunteer organization created to empower the voices of families of individuals who are deaf-blind and to advocate for their unique needs.

Dedicated to supporting families with children who are deaf or hard of hearing, regardless of communication modes or methodologies.​

NYSCB offers an array of programs to help individuals who are legally blind achieve economic self-sufficiency and full integration into society. NYSCB works closely with not-for-profit agencies for those who are blind and deafblind throughout New York State to provide technical, educational, and resource assistance.
Services for Adults in NY State