USH Ambassadors for India - Nilam, Geri, and Saurabh
We are fortunate to have 3 individuals dedicated to growing the Usher community in India. Meet Nilam - mom of 2 children with Usher 3B. Nilam lives in the United States and is of Indian heritage; Geri - a mom whose son has Usher 2A. Geri lives in India; and Saurabh - an adult living with Usher 2A in India.
You may also contact the ambassadors individually or as a group at: info.india@usher-syndrome.org 
Meet Your Ambassador - Nilam
Video Transcript:
Image: Nilam Agrawal, a woman with light brown skin, long, dark brown hair and dark brown eyes, smiles at camera from a room inside her home. She is wearing a sleeveless blue top.
Transcript: Nilam Hi everyone. My name is Nilam Agrawal. My American Sign Language name is "N" near the eye. I'm one of the two ambassadors in the state of Texas for Usher Syndrome Coalition. I'm volunteering here along with Valerie Nordstrom. I'm also the international ambassador for India.I live in Texas with my husband and our 2 kids, 14-year-old son Arian, and 10-year-old daughter Krishangi. And I have a Master's in business. I'm also one of the board members for the National Family Association for Deaf-Blind. Both my kids have been diagnosed with Usher syndrome type 3B, and even though Usher syndrome is the leading genetic cause for combined deafness and blindness, we had a long, tedious journey of over 10 years to get a diagnosis for our kids. We even had a false diagnosis to start with and now with unique life experiences, both my kids have motivated me to come and volunteer with the Usher Syndrome Coalition because I firmly believe in your cause to promote not only advocacy but to promote but also to promote research and to find a cure. I'll give you a quick overview of our work and I'll start with India. In India, we have been able to make very good connections. We have been able to connect with the local chapters of Perkins School for the Blind and Helen Keller National Center. We have connected with Sense India, and Shankira Eye Foundation.  Along with that, we have connected with a few geneticists, and scientists at research facilities.  We have a patient registry of about 13 patients and we are picking up on that and we have a lot of plans for India along with bringing local resources we want to start Family to Family Connect calls. With regards to Texas, Valerie and I have been working on our introductory letter and will start connecting with families in Texas and bringing them local resources. It is really nice to talk with you all and if you have any questions, if you need any help, feel free to either connect with me or any of our wonderful ambassadors. We are all here because we are of local families. Thank you!
Contact Nilam at: ambassador.india@usher-syndrome.org
Meet Your Ambassador - Geri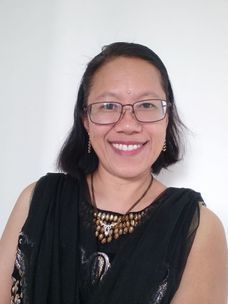 Namaste y'all!  My name is Geraldine "Geri" Rosario. I was born and raised in the Philippines, spent my young adult life in the U.S. (Ohio, California, Massachusetts, Connecticut, Texas, Arizona, North Carolina), and now I live in Mumbai India. I am married to a wonderful Indian guy. 
By profession, I am a statistician and computer scientist (MSc Statistics and Ph.D. Candidate in Computer Science), but currently, I enjoy being a full-time mom.
I have 10-year-old twins, a boy and a girl. My son has USH2A, while my daughter does not. My introduction to Usher syndrome came in 2019 when my son, then 7 years old, was diagnosed with USH2A via genetic testing. What? Rare condition? Can I find others? Luckily that year, I joined the Usher Syndrome Coalition and found a tremendous amount of support and valuable tips from the USH Blue Book Forum and website. My family was not alone.
One of my first questions in the Forum was "are there members in Mumbai or India?" So when Nilam started the Usher Syndrome India group, I was so happy! Talking to people who know Usher (parents or individuals) is so rewarding! I look forward to the monthly USH India calls. 
It is estimated that 75,000+ people in India have Usher syndrome. But finding people with Usher is challenging. The focus of many deafblind organizations here is education, support, and empowerment …. not the identification of the underlying DB cause. Many people cannot afford genetic testing
In January 2022, I became one of the ambassadors of the Coalition for India. I am eager to help find other Usher folks, to encourage them to register in the USH Trust so India can be on the radar screen for clinical trials and in the research for a cure, to show other parents of Usher kids that they are not alone, to connect and help other deafblind organizations improve the support system for deafblind folks in India, to help increase awareness about Usher being an inherited condition (many Indians prefer to marry within their community, which increases the chance of marriage between 2 carriers of the same Usher gene), to encourage research for treatments and assistive tools within India itself, etc.
There is a lot of work to be done. But even baby steps are better than nothing! 
Contact Geri at ambassador.india2@usher-syndrome.org
Meet your Ambassador - Saurabh (coming soon!)
Resources for India
The USH Trust is the largest international contact database of individuals with Usher syndrome. Created and maintained by the Usher Syndrome Coalition, it is our most powerful tool to connect and inform individuals living with Usher worldwide. The USH Trust allows us to get to know and serve the community better, and to do what we do best: identify, build, support, and connect the community, both within the Usher community and with the research community. We do this via email, telephone, videophone, social media, webinars, local social events, our USH Connections Conference, and the many resources on our website. Come, join us!

Individuals with Usher syndrome who are passionate about research have a new data collection program to join. The Usher Syndrome Data Collection Program, or USH DCP, is powered by RARE-X, a program of Global Genes - a nonprofit dedicated to accelerating research in the rare disease community. By entering your health information into this secure platform, you will become part of a global database of de-identified information available to researchers worldwide. That means that only you can see your data. Only you can change your data. Your personal information (name, email address) will not be shared without your permission. As the DCP grows, more researchers will become aware of Usher syndrome. This can lead to the development of clinical trials, new treatments, and new therapies. YOU hold the key to unlocking future research discoveries.

Information about the Coalition and the USH community in India.

Enhance your efficiency on computers. Attend career awareness workshops. Sign up for digital/computer literacy programs. Get employability training and employment.

Created to bring awareness to Usher syndrome, advocate for the unique needs of the Usher community in India, and share information and resources with families and individuals living with Usher syndrome in India. Our message to you is that 'You are not alone!'

MedGenome Labs Ltd
3rd Floor, Narayana Nethralaya Bldg, Narayana Health City,
#258/A, Bommasandra, Hosur Road, Bangalore - 560099
Tel: +91 (0)80 6715 4989 / 990
Test requested: Usher syndrome panel genes

2nd NCDB 2022! (National Conference of The Deaf-Blind) from 4th February to 6th February 2022. The main theme of this conference is 'Wellness through Independent Living' and topics are Health, Finance and jobs. The first two days will focus on conference theme. The third day of the conference is for entertainment. The conference is open to deaf-blind, deaf-low vision, deaf and non-disabled people. Deaf or hearing interpreter should come with the participant who is deaf-blind or deaf-low vision. SEDB will take care of the travel expenses of registered deaf-blind/deaf-low vision participants along with their hearing interpreters provided they travel by 3rd AC/sleeper class and within the scope of their railway concession certificate.
Please register for free using this link: https://forms.gle/u1BtwhZ6UUL2jRzk7

Nilam discusses her journey as a parent of children with Usher syndrome and her passion to improve education for all DeafBlind children.

Research article with data about the Usher community in India