USH Ambassadors for Florida
Lynne Gilpatrick
Originally from RI/MA, my family and I moved to Clermont, Florida, in Lake County, in 2018.  I was diagnosed with Usher syndrome type 2 in 2016. I grew up wearing hearing aids and I currently have bilateral cochlear implants. I wear glasses & have low vision. I use a white cane. I was mainstreamed in school. I have a Master's degree in Social Work. Prior to moving to Florida, I worked in Early Intervention for over 25 years, working with children birth-3 years old with developmental delays, & their families. I am married and I have 4 children. There is no history of Usher syndrome in my family. Since I stopped working in 2018 & we moved to Florida, I've become involved In spreading awareness. I would love to connect with you to continue to spread awareness!
Contact Lynne at: ambassador.fl2@usher-syndrome.org
Jasmine Simmons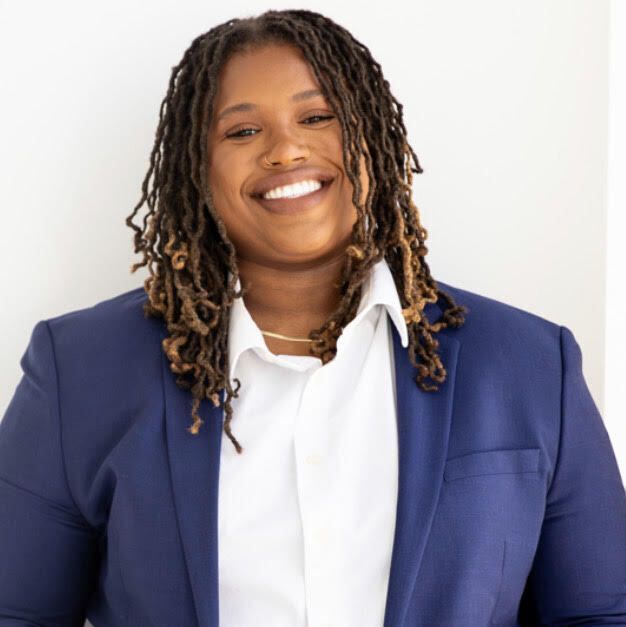 Hello all! My name is Dr. Jasmine Simmons. I have Usher syndrome Type 1D. I am originally from Columbus, Ohio, however, I currently reside in Jacksonville, Florida. I am an audiologist and currently work for a non-profit clinic. 
I was born profoundly deaf and l have a cochlear implant. I was diagnosed with retinitis pigmentosa at the age of seven. I was recently diagnosed as legally blind at the age of 28. I am no longer driving. It has been a challenging process, however, I am finding new strengths as I go through this journey. I am now using a white cane more frequently and confidently.
It is important to share that we all may be in different stages, however, we are here to help you get through whatever stage that may be. I look forward to getting to know each of you. This is a safe place for us to support each other and share our stories.
You may contact me at ambassador.fl@usher-syndrome.org
Resources in Florida
The USH Trust is the largest international contact database of individuals with Usher syndrome. Created and maintained by the Usher Syndrome Coalition, it is our most powerful tool to connect and inform individuals living with Usher worldwide. The USH Trust allows us to get to know and serve the community better, and to do what we do best: identify, build, support, and connect the community, both within the Usher community and with the research community. We do this via email, telephone, videophone, social media, webinars, local social events, our USH Connections Conference, and the many resources on our website. Come, join us!

Individuals with Usher syndrome who are passionate about research have a new data collection program to join. The Usher Syndrome Data Collection Program, or USH DCP, is powered by RARE-X, a program of Global Genes - a nonprofit dedicated to accelerating research in the rare disease community. By entering your health information into this secure platform, you will become part of a global database of de-identified information available to researchers worldwide. That means that only you can see your data. Only you can change your data. Your personal information (name, email address) will not be shared without your permission. As the DCP grows, more researchers will become aware of Usher syndrome. This can lead to the development of clinical trials, new treatments, and new therapies. YOU hold the key to unlocking future research discoveries.

For those who have Usher syndrome, who are parents of children with Usher syndrome, and/or professionals who work with people with Usher syndrome in Florida. This is a place to support each other & network; share resources, news/updates & research on Usher syndrome; and to spread awareness. Please feel free to invite others who have Usher syndrome & live in Florida. Know that you are not alone!

Relay Conference Captioning (RCC) is a free service for anyone who is deaf or hard of hearing to engage in group conversations in a videoconference, multi-party conference call or webinar. Using the same high-quality captioners that produce closed captioning for television, RCC users receive live, real-time text streamed to a computer connected to the Internet anywhere.

The FAVI Deaf-Blind Collaborative serves the entire state of Florida providing training and consultation services to the families and educational teams of Florida's children and young adults (ages 0-22) with concurrent hearing loss and vision loss.

Program and services for youth and adults with combined vision and hearing loss.

Provides free telecommunication evaluation, equipment, and training to children and adults with significant vision and hearing loss who qualify. iCanConnect is a national program authorized under the National Deaf-Blind Equipment Distribution Program.

If you are an adult resident of the City of Jacksonville from a low-income background, you may be eligible to receive hearing care from our Community Audiology Services Program, in partnership with the City of Jacksonville.

A national volunteer organization created to empower the voices of families of individuals who are deaf-blind and to advocate for their unique needs.