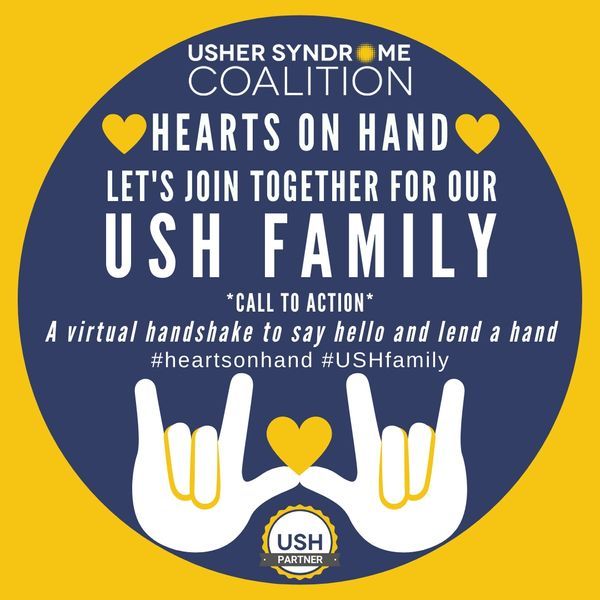 Hearts on Hand *Call to Action*
The Usher Syndrome Coalition, along with our USH Partners (Ava's Voice, Hear See Hope, Usher Kids UK, Usher 1F Collaborative, and Usher Syndrome Society), are forming a *CALL TO ACTION* in response to the current COVID-19 health crisis. To ensure that all members of the Usher syndrome community - our USH Family - know they're not alone, please consider doing any of the following:
Check in with an USH Family member to let them know they are not alone
Share this post on your personal Facebook page for a *Call to Action* for families and friends to be alerted and to join in
Tag a local resource that might be able to help your local friend in need
Stay in. Reach out. A virtual handshake to say hello and lend a hand.
#HeartsOnHand #StayInReachOut #USHFamily #USHCoalition #UsherSyndrome #Awareness #USHPartners
RESOURCES
Financial Assistance During COVID-19 Pandemic
Information about COVID-19
The Center for Inclusive Design and Innovation has compiled resources about COVID-19 in multiple formats.

General information about the COVID-19, and resources made accessible for the DeafBlind community

A state-by-state listing of resources in the United States, organized by state
ASL Information about COVID-19
In ASL with voice translation

A collection of resources for the Deaf, hard-of-hearing, and DeafBlind communities, and those that live, work, and ally with them, including interpreters, Support Service Providers, educators, parents, and relatives.
Education Resources and Support
Webinar and Fact Sheet from the Department of Education

Sponsored by the CHARGE Syndrome Foundation and the National Center on Deaf-blindness
Leisure Activities/Crafts
TECHNOLOGY FOR WORK AND HOME
Freedom Scientific is offering free home-use screen reading and screen magnification software to those affected by COVID-19 until June 30, 2020.

This series of 33 short videos in ASL, with voice and captions, provide an overview of technology used by the DeafBlind community.
FREE Resources
The Helen Keller National Center offers the following topics: Haptics Video Series, Communication Technology for People Who are Deaf-Blind; Americans with Disabilities Act, and Advocacy in the Deaf-Blind World

HKNC is offering professional learning courses, free of charge, up to May 31, 2020. Contact pld@hknc.org for a coupon code

Freedom Scientific is offering free home-use screen reading and screen magnification software to those affected by COVID-19 until June 30, 2020 .

Offers some free ASL lessons

Free training resources for JAWS, ZoomText and Fusion

Free audio news service for anyone who is a non-visual reader.

Features actors, actresses, comedians and sports figures reading children's books from their home. The stories are sometimes animated and they are captioned.
BLOGS
An overview of how to make materials accessible - captions, transcripts and image descriptions.
Resources for Home Deliveries
Free deliveries for the most at-risk community members facing COVID-19. Request a delivery of supplies, groceries or whatever else you may need. A volunteer will bring it to your doorstep.

Order groceries online, pay with credit card. Contactless delivery available.