What's New with USH, March 2015
March 2, 2015
---
MESSAGE FROM THE CHAIRMAN
Usher syndrome is finally on the map!
For a long time there was no way of knowing how much money NIH invested in Usher syndrome research. Through the efforts of the Usher Syndrome Coalition and folks like you, Usher syndrome has been added as a new category in the NIH Categorical Spending list, the Estimates of Funding for Various Research, Condition, and Disease Categories (RCDC). 
We now have visibility into the total dollars spent on Usher syndrome, as well as the specific grants that were funded. We still need a lot more investment, but this is a great start.
Help keep the momentum going! Invite your members of Congress to the Usher syndrome congressional briefing today.
Thank you for your support!
Mark Dunning
---
SUPPORT USH ON CAPITOL HILL
TELL YOUR CONGRESS MEMBERS:  the Usher Syndrome Coalition is coming to Capitol Hill. 
On Thursday, March 19th, we are hosting a congressional briefing on Usher syndrome. Dr. Edwin Stone, from the Stephen A. Wynn Institute for Vision Research at the University of Iowa, will be the featured speaker talking about the exciting state of Usher syndrome research and the need to make this a higher priority at the National Institutes of Health.  
This is a big step towards finally getting the funding we need. Here's where you come in:  
Contact both your Senators and the US representative for your district. Here's how you can find your members of Congress.  
Once you've found them, visit their website! Click on the CONTACT forms and invite them, as well as their staff members, to attend this briefing. 
Not sure what to say to your Senator or state representative? Here is a sample message to get you started!
Complete these three steps and you've made a huge impact! We need Congress to hear from you, their constituents, about the devastating impact of Usher syndrome.
Be sure to ask your family and friends to reach out to their representatives, too! We're all in this together.
P.S. Members of Congress will be in their districts the week of March 9th. Why not request to meet your members in person? You can request a meeting on your members' websites.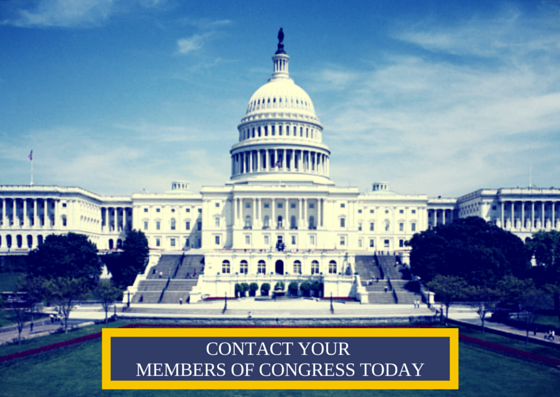 ---
NEXT USHER SYNDROME CONFERENCE CALL, MARCH 9
Thanks again to Dr. James Phillips, who joined our call from the University of Washington to talk about the development of a combined vestibular and cochlear implant for Usher syndrome patients. 
The presentation and transcript from Dr. Phillips' talk will be available online shortly.​
Our next call will be on Monday, March 9th at 1:00 PM Eastern Time. 
We will be joined by Dr. David Saperstein, Scientific Director of the Usher III Initiative, full-time practicing vitreoretinal surgeon in Seattle and biotech entrepreneur. In his role as Scientific Director, Dr. Saperstein manages translational and basic research directed towards this rare disease. He will share the Usher III Initiative's latest updates on treatments under development for Usher syndrome type 3. 
---
RECENT USHER SYNDROME BLOG POSTS
February 10, 2015 by Mark Dunning
The thing about family is that you feel a deeper responsibility to them. You share things with them, embarrassing things, painful things, things you wouldn't want to tell your friends. They accept you when you fail, when you don't turn out the way you wanted, when you let them down. Read more... 
February 18, 2015 by Mark Dunning
This blog has always been about families. Sure we talk about the science of Usher syndrome, the politics of Usher syndrome, the funding of Usher syndrome, but all of it, in the end, comes back to the impact of Usher syndrome on families. Read more...
---
JOIN US at the 7th Annual Usher Syndrome Family Conference!
Connect with others impacted by Usher syndrome, engage with researchers and learn the latest about causes, management and treatments of Usher syndrome.
Saturday, July 11, 2015
New Orleans Downtown Marriott 
at the Convention Center
New Orleans, Louisiana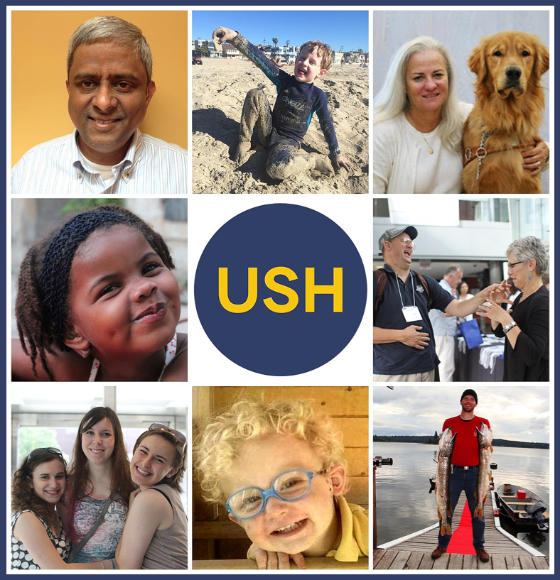 Discounted rooms are available for a special rate of $139/night at the New Orleans Downtown Marriott at the Convention Center. Please note that you must reserve your room by June 12th to receive the discounted rate for this conference. 
Join the #USH2015 experience on Facebook and Twitter.
Early Bird Exhibitor Registration Deadline: March 31st
---
INTERNATIONAL USHER SYNDROME REGISTRY
The Registry aligns over 750 registrants from 41 countries with the latest advances in research and treatment. The Registry is now available in Dutch, Spanish, Hebrew and English, with more translations in the works. 
Researchers believe that building a bigger pool of people with Usher syndrome will be the best way to ensure treatments make it to clinic. Expanding the Usher Syndrome Registry is an integral step in the search for a cure.
In addition to adding Usher syndrome as a new category in the RCDC system, NIH recently referenced the Usher Syndrome Registry as a resource under the "NIH Clinical Research Trials and You" webpage.
Join the Registry here, or encourage family members, friends and patients to join. You are the key to finding a cure.
---
USHER SYNDROME FAMILY NETWORK
The Family Network links over 300 families from dozens of countries.
The goal of the family network is to connect Usher individuals and families. Many families join the Family Network for their own benefit. They want to talk to someone with similar experiences. They want information. They want help. But in the process of communicating with other Usher families, they end up providing precisely what they are seeking.
You can join the Family Network here.
---
ADA INFORMATION HOTLINE
The United States Department of Justice operates a toll-free Americans with Disabilities Act (ADA) Information Line to provide information and materials to the public about the requirements of the ADA. If you'd like assistance understanding how the ADA applies to your situation, ADA Specialists are available Monday through Wednesday and Friday from 9:30 AM to 5:30 PM.
1-800-514-0301 (Voice)
1-800-514-0383 (TTY)
Calls are confidential
---
ADDITIONAL RESOURCES
The Usher Syndrome Coalition provides a number of other resources for families with Usher syndrome including:
The Usher Syndrome Registry and Family Network
The Usher Syndrome Coalition website
A blog on Usher syndrome issues
Facebook and Twitter
An effort to increase NIH awareness of Usher syndrome
You are welcome to take advantage of any and all of these resources.
QUESTIONS?



Contact us at +1-978-637-2625 or email Krista Vasi at k.vasi@usher-syndrome.org.

Our Contact Information
Usher Syndrome Coalition 
2 Clock Tower Place, Suite 418
Maynard, MA 01754
1-978-637-2625
www.usher-syndrome.org