What's New with USH, June 2015
June 4, 2015
---
MESSAGE FROM THE CHAIRMAN
I hope you'll join me in New Orleans next month for our annual one-day family conference. This is one of my favorite days of the year. It's not only a way to learn about the latest on the management and treatment of Usher syndrome, it's also an incredible opportunity to network with other families and some of the leading Usher syndrome researchers in the world. 
The USH2015 program will include presentations on the progress of neuroprotection, gene therapy, drug therapy, and stem cell therapy to treat Usher syndrome, and the role of the Usher syndrome community in the search for a cure.
The family panel discussion, research Q&A session, lengthy breaks and evening social allow you time to connect with others impacted by Usher syndrome and researchers. And be sure to bring the kids, both those with Usher and their siblings. We have activities planned for the day for all ages. It's a unique opportunity for kids with Usher to be the majority for once.
Look forward to seeing you in New Orleans.
Mark Dunning
---
DEADLINE FOR SPECIAL REQUESTS
We want to be sure this event is as accessible as possible. In order to do so, we need to receive all special requests by Friday, June 12th. Requests for interpreters, sighted guides, CART captioning, assistive listening devices, Braille materials, child care, dietary restrictions, etc. can be made during registration at http://bit.ly/USH2015.
We also have a limited number of discounted rooms available for a group rate of $139/night at theNew Orleans Downtown Marriott at the Convention Center. The hotel reservation deadline is June 12th. The family conference will be held on the first floor of this hotel, in the Blaine Kern Ballroom.
If you haven't already done so, we strongly encourage you to make your hotel reservations here: http://bit.ly/USHrooms
WHEN
Saturday, July 11, 2015, 8:00 AM to 5:00 PM
WHERE
The conference will be held in the Blain Kern Ballroom on the first floor of the New Orleans Downtown Marriott at the Convention Center, 859 Convention Center Boulevard, New Orleans, LA 70130.
MORE INFORMATION
---
HELP US OWN THE EQUINOX
The autumnal equinox marks the start of days that contain more darkness than light. It is a great metaphor for the threat of Usher syndrome. We want to Own the Equinox, claiming the third Saturday in September as Usher syndrome awareness day. But to do so, we need your help. We want this to be a worldwide event that starts on one side of the world (I'm looking at you Australia) and runs around the globe to the farthest point before the international date line (that's your cue, Alaska).
In fact, you are all invited to Fairbanks, Alaska on Saturday, September 19th to join me and others in running the Equinox Marathon. Can't make it to Alaska? Not up for running 26.2 miles in one go? No problem. We are also holding a mile-a-thon where you can join us in spirit by walking or running one mile a day for the 25 days leading up to the 19th of September and capping your mile-a-thon with a brisk 1.2 mile trot on Usher syndrome awareness day. Best part of the mile-a-thon is you can do it anywhere in the world.
So get up, get out and join all of us in the USH family to raise awareness on September 19th. More details will soon follow. Help us own the Equinox!  #USHEQX
---
WILLIAM KIMBERLING USHER RESEARCH LABORATORY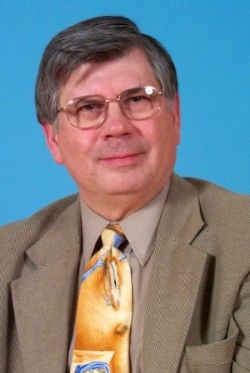 On April 13th, the University of Iowa Stephen A. Wynn Institute for Vision Research announced the creation of a laboratory honoring one of the founding members of the Usher Syndrome Coalition, Dr. William Kimberling.
The William Kimberling Usher Research Laboratory will be devoted to developing treatments for all subtypes of Usher syndrome, studying the natural history of Usher syndrome and making genetic testing available for patients with Usher syndrome who cannot afford it. Learn more.
DO YOU HAVE A STORY ABOUT DR. KIMBERLING?
In honor of the dedication of this new lab, we hope you will take a few moments to share your stories of Bill. You can write them in the comments of this blog post or email them to Mark at m.dunning@lek.com. Be sure to share this email with anyone who knows Bill. We know your words will warm his heart. Here's Mark's story. ​
---
RECENT USHER SYNDROME BLOG POSTS
Gene Therapy and You | May 28, 2015 by Mark Dunning
Science is trial and error. We learn something from every clinical trial, but we often need a lot of them to get a treatment to clinic. Read more...
Dispatches from ARVO 2015, Days 1-4 | May 4-11, 2015 by Jennifer Phillips, PhD
Dr. Jennifer Phillips brings us the latest Usher syndrome research from ARVO 2015. Read more...
iCanConnect Helps Individuals with Combined Hearing and Vision Loss Stay Connected | April 22, 2015 guest post by Marcia Brooks, Perkins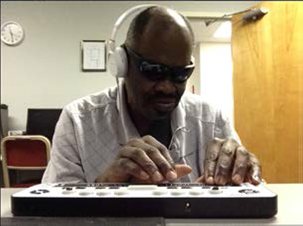 Born blind, Willie Bivins began losing his hearing as a child. Today, at age 64, he is celebrating renewed ability to connect with his friends and family thanks to the Braille Edge 40, Apple iPad and Bluetooth keyboard he received through iCanConnect. Read more... 
Receiving a Gift on Deafblind Awareness Day | April 15, 2015 by Mark Dunning
"Humbled and awed." Mark reflects on Deafblind Awareness Day at the Massachusetts State House. Read more...
---
SHINY AND NEW
The Usher Syndrome Coalition website is getting a makeover. We strive to be the most comprehensive resource for the Usher syndrome community. That means our website has a ton of information, but it might not always be easy to find. We're tinkering with our new site, making it more accessible, more up-to-date and more USH-friendly. We can't wait to show you.
---
INTERNATIONAL USHER SYNDROME REGISTRY
The Registry aligns nearly 850 registrants from 46 countries with the latest advances in research and treatment. The Registry is now available in Dutch, Spanish, Hebrew and English, with more translations in the works.
Researchers believe that building a bigger pool of people with Usher syndrome will be the best way to ensure treatments make it to clinic. Expanding the Usher Syndrome Registry is an integral step in the search for a cure.
Through the registry, we've been able to support several studies that needed access to people with Usher syndrome. The more people we have in the registry, the more researchers will come to us and the closer we'll be to a cure.
Join the Usher Syndrome Registry here, or encourage family members, friends and patients to join. You are the key to finding a cure.
---
USHER SYNDROME FAMILY NETWORK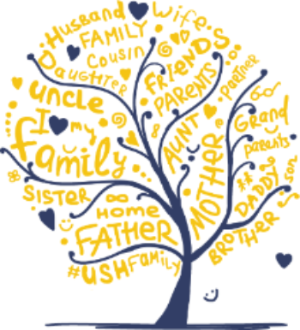 The Family Network links over 300 families from dozens of countries.
The goal of the family network is to connect Usher individuals and families. Many families join the Family Network for their own benefit. They want to talk to someone with similar experiences. They want information. They want help. But in the process of communicating with other Usher families, they end up providing precisely what they are seeking.
You can join the Family Network here.
---
ADA INFORMATION HOTLINE
The United States Department of Justice operates a toll-free Americans with Disabilities Act (ADA) Information Line to provide information and materials to the public about the requirements of the ADA.
If you'd like assistance understanding how the ADA applies to your situation, ADA Specialists are available Monday through Wednesday and Friday from 9:30 AM to 5:30 PM.
1-800-514-0301 (Voice)
1-800-514-0383 (TTY)
Calls are confidential
---
ADDITIONAL RESOURCES
The Usher Syndrome Coalition provides a number of other resources for families with Usher syndrome including:
The Usher Syndrome Registry and Family Network
The Usher Syndrome Coalition website
A blog on Usher syndrome issues
Facebook and Twitter
An effort to increase NIH awareness of Usher syndrome
You are welcome to take advantage of any and all of these resources.
---
QUESTIONS?



Contact us at +1-978-637-2625 or email Krista Vasi at k.vasi@usher-syndrome.org.

Our Contact Information
Usher Syndrome Coalition 
2 Clock Tower Place, Suite 418
Maynard, MA 01754
1-978-637-2625
www.usher-syndrome.org