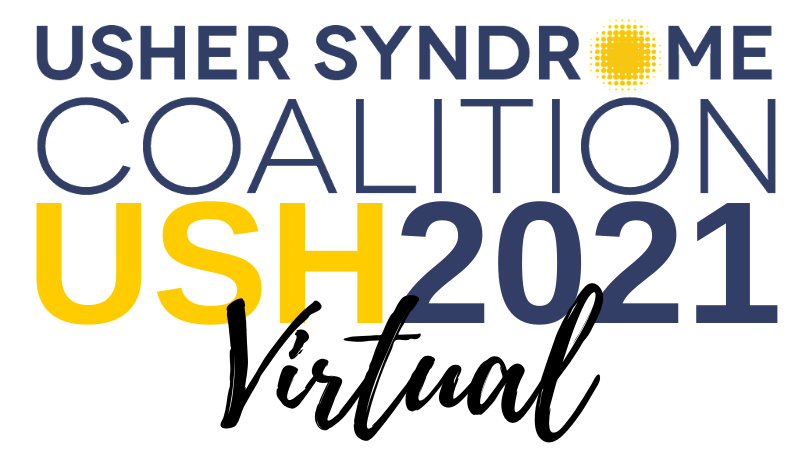 13TH ANNUAL USH CONNECTIONS CONFERENCE
IMPORTANT:
Friday, May 7th is the final day to register children (virtual USHangouts) and sign up for Parent Sessions.
~~~
IMPORTANTE:
El viernes 7 de mayo es el último día para registrar a los niños (USHangouts virtuales) y registrarse para las sesiones para padres.
---
The Usher Syndrome Coalition presents the 2021 virtual USH Connections Conference! During our USH2021 program, those living with Usher syndrome will take center stage as the experts. There will be something for everyone in the Usher syndrome community. Join us!
Our USH2021 event is scheduled throughout the week of May 10. These dates are a departure from our usual July event in order to complement the Usher 1F Collaborative's virtual scientific research conference, May 13-14. Similar to our format last year, live sessions and pre-recorded presentations will be available leading up to the Usher 1F Collaborative's research conference, and closing on the weekend of May 15-16.
Join us July 8-9. In order to keep everyone connected in 2022, we're planning a hybrid format for this event. Meet your USH Family in person in Austin, Texas, or connect online.
You're invited to join the Usher Syndrome Coalition in recognition of the 7th annual global Usher Syndrome Awareness Day. This special day belongs to our community and falls on Saturday, September 18th this year. 
An overview of the USH2021 Connections Conference agenda, the annual global gathering of the Usher syndrome community.
What you should know:
There are two separate conferences that complement each other:
1. Usher 1F Collaborative's virtual scientific research conference, "Therapeutic Strategies for Large Protein Coding Genes in Usher Syndrome," May 13-14

This conference is dedicated to the types of Usher syndrome caused by mutations in large genes only (USH1F, USH1B, USH1D, USH2A). Sponsored by the Chan Zuckerberg Initiative Rare as One Project grant, the goal is to bring together Usher syndrome researchers and scientists working on applicable tools to solve this challenging problem. This scientific conference has a separate registration. Learn more here.
2. Usher Syndrome Coalition's Virtual USH Connections Conference, May 10-16
The USH Connections Conference is dedicated to:

Connecting you with the global Usher syndrome community, your USH Family.
Providing clear and accessible updates on progress to treat multiple types of Usher syndrome. 
Sharing resources and community perspectives that can help you and your family live your best lives with Usher syndrome.

Interested in becoming a Virtual Exhibitor?
Exhibitor registration includes access to our Whova event app where you can engage with hundreds of USH2021 participants. Register here.
Curious about the virtual USH Connections Conference?
Check out presentations from last year's Virtual USH Connections Week, USH2020. The entire Usher syndrome community can now access prerecorded presentations and recorded live sessions in their format of choice - visual, spoken, in ASL, with captions, and/or text transcripts. These presentations will remain in our USH Talks Library for you to discover at your convenience.
---
Thank you to our USH2021 Sponsors!
SILVER SPONSORS
BRONZE SPONSORS
---
Get our official conference app
For Blackberry or Windows Phone,
Click here
For feature details, visit
Whova