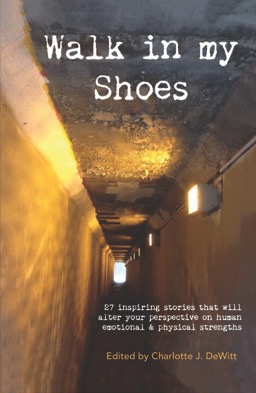 Walk in my Shoes
Edited by Charlotte J. DeWitt, Published by Merrimack Media
Release Date: December 12, 2016
Where to purchase:
Paperback in the U.S., $18.98, 282pp. ISBN: 978-1-945756-11-5
Kindle Ebook in the U.S., $8.99, ISBN: 978-1-945756-12-2
Barnes & Noble NOOK book (ePub) in the U.S., $8.99
Paperback and Kindle Ebook U.K., £7.06 Kindle Edition, £15.23 Paperback
Walk in My Shoes is the result of two years of collaborative effort and is finally complete! This book is a unique collection of 27 powerful stories by individuals who are experiencing or witnessing the challenges of losing not one, but two senses: hearing and sight. The writers of Walk in My Shoes offer a glimpse into living with Usher syndrome, a progressive disease leading to blindness and deafness. Walk in My Shoes speaks to the more than 400,000 people worldwide dealing with Usher syndrome, to their families, to the professionals working with them, and to the rest of the world.
The writers of Walk in My Shoes come from all walks of life, from the United States, Canada, and Mexico. By promoting awareness in their communities and sharing this inspirational book, they want to be seen and heard, even while their vision and hearing fail them. All proceeds from book sales will be donated to the Usher Syndrome Coalition to help fund scholarships to its annual conferences and to support research for a cure. The writers inspire hope for anyone dealing with difficult life challenges. Even though they may not see or hear perfectly, they have so much to teach us about the human spirit, overcoming harsh obstacles and seeking equality in a society that does not understand them. Read their stories to see how they do it, to feel inspired, and to learn more about how you can help.
Ramona Rice, Project Manager, who has Usher syndrome type 2, conceived the idea to raise awareness about deaf blindness from powerful, hopeful, humorous and compelling stories in Walk in My Shoes and to support researchers to find a cure. She feels strongly that Walk in My Shoes will inspire many people around the world to unite to make a difference for those suffering from deaf blindness.
​Contact Information:
Email Ramona Rice at rricetx@gmail.com or phone +1(801) 430-8833

For More Information:
Twitter: @BKWalkinmyShoes
Facebook: www.facebook.com/Ushersyndrome123
Praise for Walk in My Shoes​
"An important new publication…that will provide information, support, and encouragement to others diagnosed with Usher syndrome, their families, friends, and service providers. Congratulations to the authors and the organizers who brought this project to fruition!" – Steve Perreault, Helen Keller National Center for Deaf-Blind Youth and Adults, USA
"This book is full of inspiring stories, written by some of the most resilient and creative people I have ever met – or hope to meet soon." – Gislin Dagnelie, Ph.D., Associate Professor of Ophthalmology at John Hopkins University of Medicine, Baltimore, MD, USA
"Walk in My Shoes is a compilation of personal reflections about becoming deafblind. The feeling of courage and dignity is wonderful and will inspire many people – both those who are personally confronting this disability, as well as those who provide support. It is a book about hope and possibility. Congratulations to the many authors for sharing their remarkable stories." – Marianne Riggio, Director, Educational Leadership Program, Perkins International, Watertown, MA, USA
"This is a wonderful book written by wonderful people who are affected by Usher syndrome. Although they have very different paths in life, the one thing that they share is they ensure that life goes on, no matter what the challenges they face whilst living with hearing and sight loss.  They overcome those challenges with a steely determination." – Carol Brill, Dublin, Ireland, UK, Advocate for Usher syndrome and deaf blindness, including a government ministerial appointment: Motivational speaker; avid golfer with Irish Blind Golf Society