You're Invited to run the Equinox Marathon in Fairbanks, Alaska
Race Day: Saturday, September 19, 2015
The Equinox Marathon has an interesting history befitting of its reputation as a serious, but friendly, community-based event. A clearing crew of dedicated community members gathered to set the course and were surprised by a bear during their work on one of the hardest sections of the course. At its first running in 1963, the Equinox Marathon attracted 143 entries (69 finished); one year later, 323 people entered the race and 258 finished. The unexpected turnout required some fast thinking. Race officials ran out of number bibs and turned to cards with printed numbers and when those also ran out, they penciled numbers on the back of entry forms and course maps! (Fairbanks Daily News-Miner, 9/21/64).
Since those early days, race directors have made sure they have enough bibs for the 380 marathon, 30 ultramarathon, and 312 relay finishers in 2014—and bears haven't been a problem for the course (on race day at least)!
In mid-September, the equal length of daylight and darkness in Fairbanks, Alaska means crisp morning temperatures of around 40F rising to about 55F by midday, though any weather—from sunshine to snow—is possible. The Equinox marathon route is mostly trail with some short road sections towards the end. Runners are surrounded by the brilliant yellows and reds of birch and aspen in their full fall foliage.
Fairbanks is well equipped to handle visitors for the race. Alaska Airlines flies into the Fairbanks International Airport (FAI) where multiple rental agencies provide cars (get the windshield insurance!!).
Places to stay:
Fairbanks Princess Riverside Lodge
But check out B&B options which offer more local flavor, especially:
A Cloudberry Lookout, an amazing little spot just off Mile 22 of the marathon route.
The Equinox event is actually 3 races:
The marathon itself (26.2 miles)
The Equinox Relay - teams of 3 run 3 legs averaging about 8.5 miles each
50K ultramarathon
Plan to run the Equinox Marathon, Relay or Ultramarathon?
Sign up to Own the Equinox, then register for any of the 3 Equinox events here (early bird discounts available prior to August 20).
---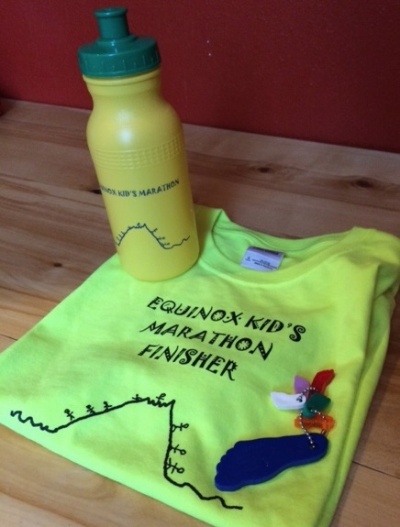 There's even a kids' event!
While the Equinox Kid's Marathon is typically run in Fairbanks, the organizer has graciously agreed to work with us to make this a "virtual" event for kids all over the world! For the Kid's Marathon, kids run/walk/hike about 1 mile per day starting August 25th for a total of 25 miles by September 18. On race day, kids gather at the Equinox start in Fairbanks—or wherever they live—to complete the last 1.2 miles. For their efforts, participants get a cool Kid's Equinox Marathon t-shirt and water bottle, plus little plastic feet to adorn their backpacks or keychains over the course of their "training" as incentive to complete the event.
Download the Kid's Marathon Entry Form here.
Email or mail completed entry form and a $12 registration fee (checks payable to Running Club North) to Caroline Brown:
Email: akbrownie@gci.net  
Snail mail:
Caroline Brown
C/o Hollingsworth
PO Box 750723
Fairbanks, AK 99775