February 2015: Congressional Briefing on Usher Syndrome, Thursday, March 19th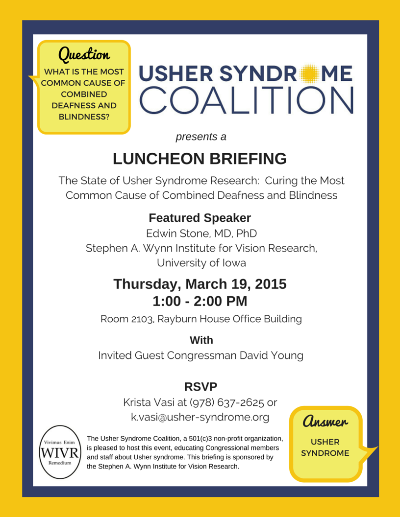 On Thursday, March 19th, the Usher Syndrome Coalition will host a congressional briefing on Usher syndrome. Dr. Edwin Stone from the Stephen A. Wynn Institute for Vision Research at the University of Iowa will be the featured speaker. Ed will be talking about the exciting state of Usher syndrome research and the need to make this a higher priority at the National Institutes of Health. This is a big step towards finally getting the funding we need.
Here's where you come in. We need you, today, to contact both Senators in your state as well as the US representative for your district. 
Once you've found them, visit their individual websites, click on their Contact forms and invite them and members of their staff to attend this important briefing.
You can use the sample message here to get started.
They read these messages. They really do. But they need to hear from you, their constituents, about the devastating impact of Usher syndrome.
Be sure to ask your family and friends to reach out to their representatives, too! We're all in this together.
For Bonus Points: Members of Congress will be in their districts the week of March 9th. If you can arrange to meet with your representatives in your home state, this is a good week to try to do so! You can request a meeting on your member's website.