You are the Key to Finding a Cure: Join the #USHFAMILY
October 21, 2014
Usher syndrome is the most common cause of combined deafness and blindness. Around 400,000 people in the world are affected by this genetic disorder, with an estimated 50,000 people in the United States. There is currently no cure for Usher syndrome. The Usher Syndrome Coalition needs your help to change this. 
We believe the key to finding viable treatments for Usher syndrome is the development of a strong Usher syndrome community, our #USHFAMILY. 

Please join our growing #USHFAMILY today and support our efforts by making a tax-deductible gift to the Usher Syndrome Coalition.

Thanks to the support of donors like you, 2014 has been a banner year for the Coalition, and the community as a whole. Your confidence in the Coalition's efforts is evident in our recent accomplishments, which include: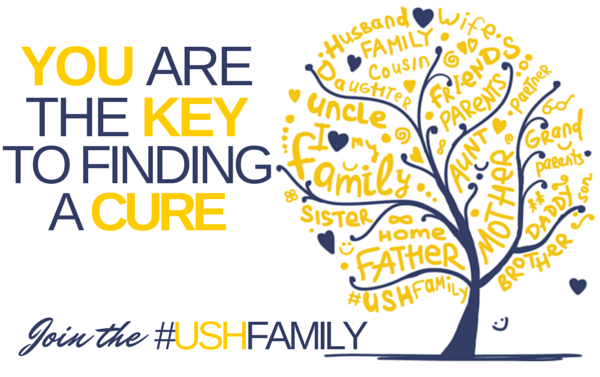 The International Symposium on Usher Syndrome and Family Conference, the largest gathering of the Usher syndrome community to date.
The Usher Syndrome Registry, now available in English, Spanish, Hebrew and Dutch with more translations forthcoming, with over 650 registrants from 36 different countries.
The Family Network, which provides support for hundreds of families around the world.
Our work with Congress, which has led to language encouraging more Usher syndrome spending to be included in the last two Congressional budgets.
A 1,000 plus strong online community, which is spreading our message with each passing day.
We're just getting started. With your help, our work can further strengthen the Usher community, our #USHFAMILY. We can't do it without you. 

Today, your generous donation can help us bridge the gap between researchers and families in need. You are the key to finding a cure.

As a member of the #USHFAMILY you can dramatically help us accelerate research. Donate today before our deadline, and help us hit our goal

Donations help us support and educate families, expand the Usher Syndrome Registry and use the power of an energized community to raise awareness and increase federal funding for Usher research. 
Thank you for believing in us.
Sincerely,
Mark Dunning, Chairman Moira M. Shea, Vice Chair Krista Vasi, Executive Director
P.S. We're all in this together. Be sure to ask your friends, family, and colleagues to join the #USHFAMILY and donate to help us reach our goal.