November 2010: Molly Watt - Young Deafblind Person of the Year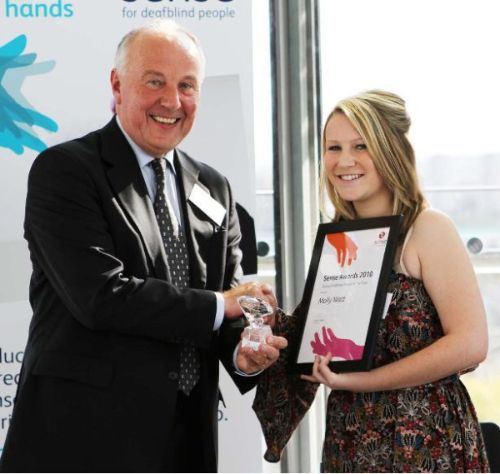 From the SENSE announcement:  "Molly Watt, 16, from Maidenhead, Berkshire, won the National Young Deafblind Person of the Year award because of her exceptional contributions to raising awareness of deafblindness. Molly has Usher Syndrome which means she was born hearing impaired and is gradually losing her sight as she gets older. Molly has tirelessly and creatively campaigned to raise awareness of the condition and the difficulties those with it can experience without the right help and support. She has produced a number of videos that are used by local authorities and sensory consortiums to educate people about Usher Syndrome and has given regular speeches and presentations on the issue including recently meeting Theresa May, Home Secretary and Minister For Equality.
The awards are given by Sense in recognition of exceptional achievements. Winners have campaigned, volunteered and worked for and on behalf of deafblind people, often for decades. The awards were presented at a special ceremony in London's City Hall on 6 October 2010."
Click here for more on the Sense Awards.