International Symposium on Usher Syndrome, USH2018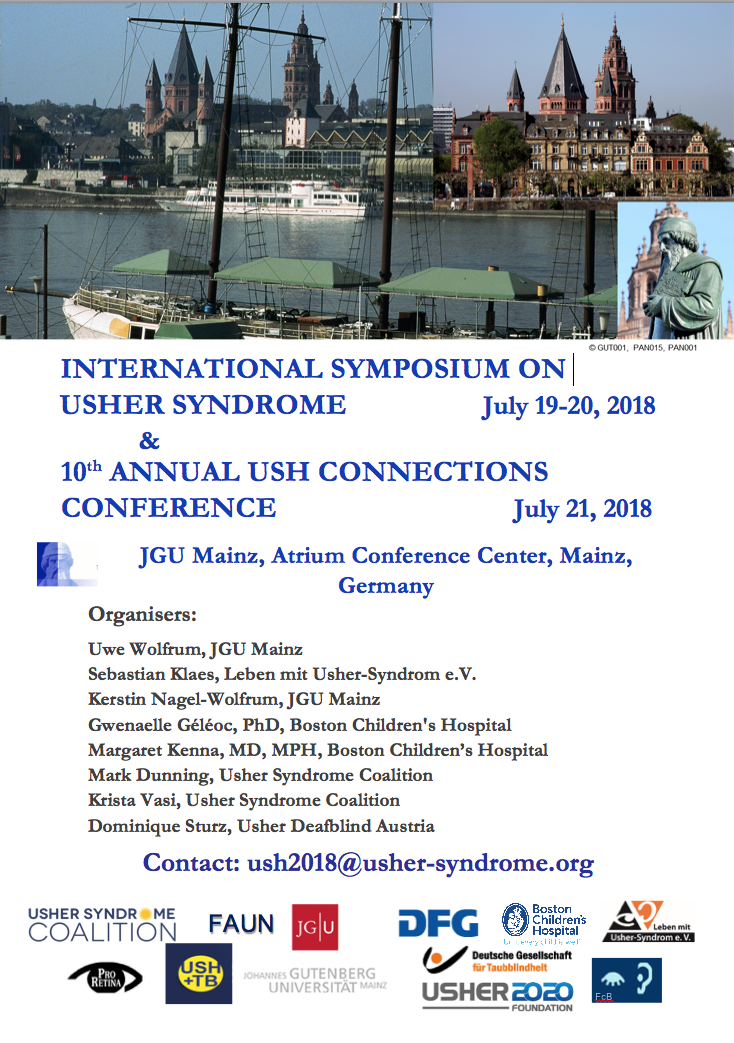 SAVE THE DATE: July 19 - July 21, 2018
JGU Mainz, Atrium Conference Center, Mainz, Germany
The International Symposium on Usher Syndrome will be held in conjunction with the 10th Annual USH Connections Conference in Mainz, Germany.
 
The two-day Symposium on July 19th and 20th will be a scientific forum where the world's leading experts come together in an environment that encourages collaboration and the exchange of ideas in order to advance Usher syndrome research. 
The Connections Conference on July 21st is an opportunity to learn about the latest research and news, and to connect with researchers, other Usher individuals and families. If you are impacted by Usher syndrome or have any connection to the community through family, friends, or profession, we hope you will be there.
For more information, contact ush2018@usher-syndrome.org
About Usher Syndrome
Usher syndrome is the most common genetic cause of combined deafness and blindness. More than 400,000 people are affected by this disorder worldwide. 

This rare genetic disorder is progressive, posing challenges throughout life requiring constant adjustments as vision and hearing deteriorate with age. Children with USH are born with or develop hearing loss and may also be born with or develop vestibular issues which adversely affect their balance. By the time they reach adolescence, symptoms of retinitis pigmentosa (RP) become evident. Initially, there is a loss of night vision followed by an increasingly narrow peripheral vision (or "tunnel vision"), and finally loss of central vision. 

There is no treatment for the vision loss of individuals with Usher syndrome. The Coalition is working hard to change that by bringing together the passion and expertise of families and prominent researchers from around the world in an urgent movement to find a cure.