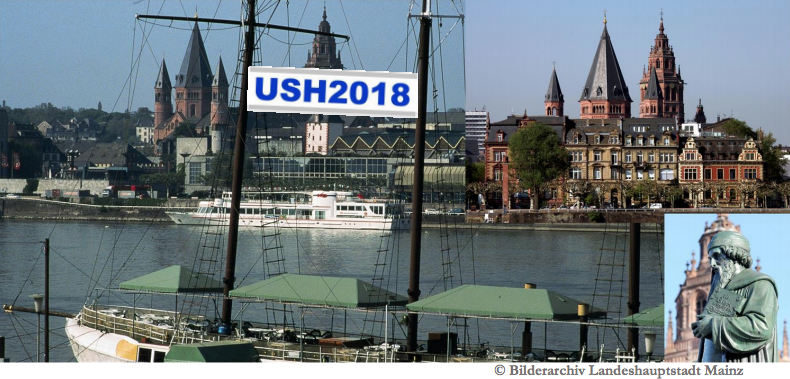 Registration is now open!
USH2018: July 19-21, 2018 in Mainz, Germany
A broad alliance of institutions presents the 4th International Scientific Symposium on Usher Syndrome and the International Patient Symposium (10th Annual USH Connections Conference).
The International Symposium on Usher Syndrome will convene at the Atrium Hotel Conference Centre in Mainz, Germany on July 19-20, 2018, bringing together the world's leading experts from different fields of research (diagnostics, genetics, therapy, structural, molecular and cell biology) to present the latest developments in Usher syndrome. The 2-day research symposium will enable the exchange of ideas and knowledge among scientists, clinicians and geneticists in order to facilitate novel research and insights in therapeutic strategies for Usher syndrome.
The International Patient Symposium (USH Connections Conference) will convene on July 21, 2018, bringing together professionals with those affected by Usher syndrome around the world. Experts will provide summaries of the scientific symposium in layman's terms and highlight the progress in therapeutic options. Psychological aspects and healthcare issues will be discussed from a patient's point of view.
When
Thursday, July 19, 2018 to Saturday, July 21, 2018
Where
Atrium Hotel Mainz Conference Centre
Flugplatzstr. 44
55126 Mainz, Germany
Phone: +49 6131 491-0 Fax: +49 6131 491-128
Deadlines
Early Bird Registration: May 15, 2018
Abstract Submissions: May 15, 2018
Registration Deadline: July 1, 2018
Hotel Reservations
Deadline: May 2018
Group rates are available at a number of hotels in various price ranges.
Reservations at the Atrium Hotel (where the Symposium will be held) can be made by clicking the following link and submitting a message on the Contact form that includes your Arrival and Departure dates and indicates "Usher Symposium": https://www.atrium-mainz.de/en/about-us/contact-us/
Reservations at additional hotel options in Mainz: http://bit.ly/USH2018Mainzhotels
For details about accommodation options and distance from the conference venue (Atrium Hotel Mainz), click here: http://ush2018.org/en/venue-accommodation
For more conference details visit http://www.ush2018.org/
Questions?
Email: ush2018@uni-mainz.de