What Does It Mean to Be a Traveler with Usher Syndrome?
January 21, 2016
by Dario Sorgato
Dario Sorgato was born in northeast Italy in 1978. He was diagnosed with Usher Syndrome Type II at the age of 16. He studied Design and worked as Interior Designer in Milan. His hunger for travelling made him quit the job several times to travel to Australia first and on board of the ship Heraclitus in 2008. He is currently living and working in Berlin start-up scene and he spends most of his free time on NoisyVision projects and planning his future journeys. He is a passionate storyteller and loves writing as much as travelling. He published two books and several short stories.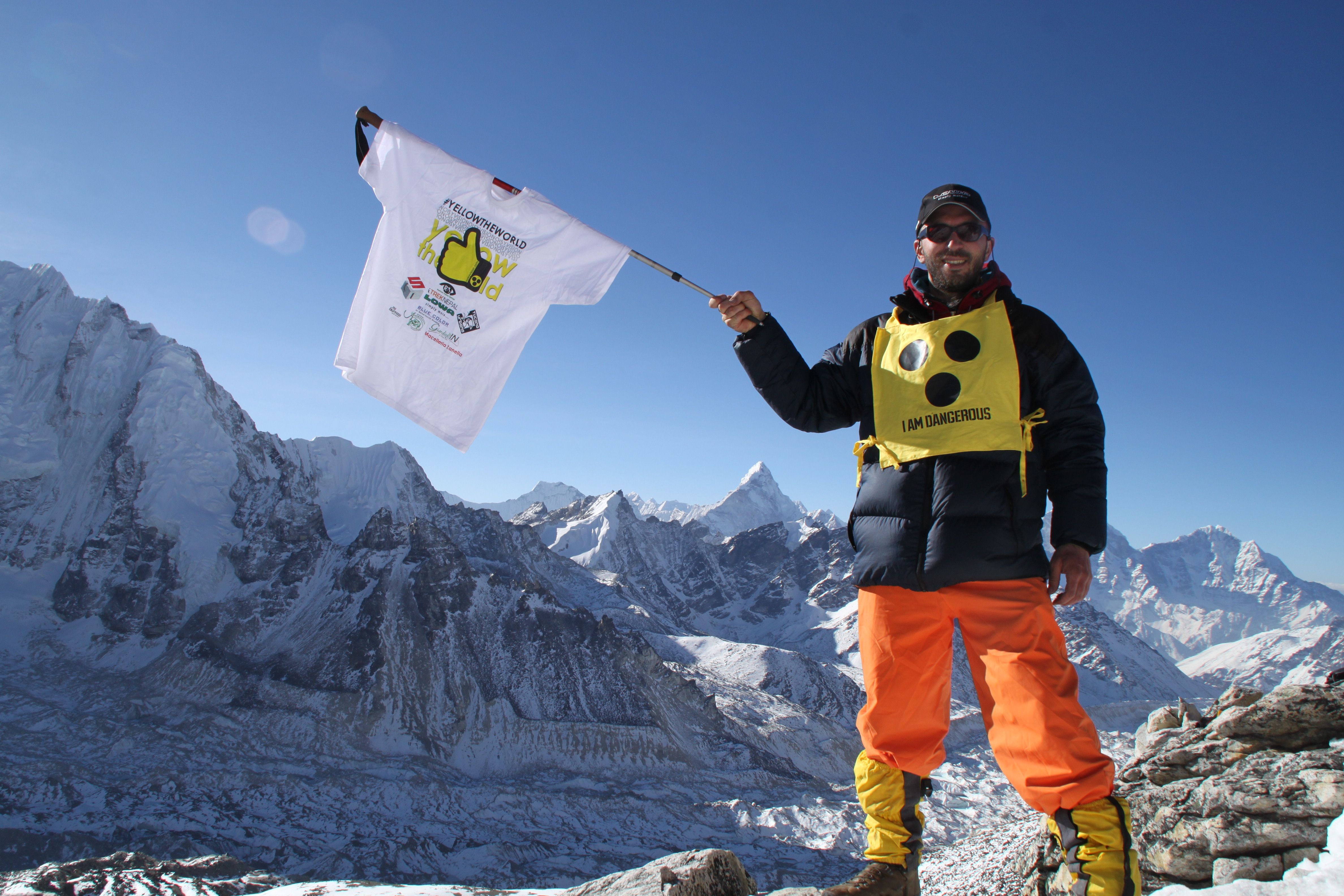 Some years ago I wrote the post Considerations of a Traveler with Usher Syndrome. In this post, I recapped my traveling experiences up to that point, and asked myself the question: "What does it mean to be a traveler with Usher Syndrome?"
In answer, I gave some examples of real situations taken from my recent trip in Morocco, to show how often the thoughts of the issues you may face are scarier than reality. In fact, once you are actually traveling everything becomes almost predictable, as if the solutions are coming before the problems.
It was 2012 and as I am a restless traveler I kept filling the list of destinations. I traveled with friends in China, Russia, Turkey, England and went again on board a boat, but on lakes and rivers rather than the ocean like in 2008. I went skiing and hiking in Italy, I went alone in Sardinia and again in Morocco.
I have been wondering if this constant movement is in fact, a manifestation of an internal motion that could eventually come from the need of seeing before it gets dark. Regardless the reason, I enjoy traveling. I love to experience, to learn, to feel. Even if at times it can be difficult, the impairments are never the reason to stop. Most of the time, I have to decide on my next destination based on time and money rather than asking "Can I do it?"
I am dreaming of Mongolia, Alaska, Patagonia, …
In 2015, I decided to take my traveling bug to the next level by combining my passion for exploration and my experience living with Usher syndrome, bringing the awareness campaign #YellowTheWorld to the highest point on Earth, Mount Everest.
#YellowTheWorld was initiated in Helsinki by NoisyVision, with the aim to promote the mobility of the visually impaired people. We want to spread awareness and understanding of low vision and problems related to eye disease, with particular attention to accessibility as facilitation of mobility. #YellowTheWorld focuses on potentials and on how to overcome limitations.
(The idea came after The Visionary Europe workshop as a world with more yellow [and black] would be friendlier to the visually impaired. Yellow thumbs up and black thumbs down are the marks for good and bad examples of accessibility.)
I successfully completed the trek to Everest Base Camp, but not without struggles. Still, I was very well prepared, mentally and physically. I prepared my body, my muscles, my breath and I was ready to face defeat. I stumbled a lot on stones and fell a few times, but never got hurt. Since I had to make sure the guide was able to assist me in every occasion I had to hire my own guide, which was a little more expensive.
With this trip to Nepal and a trek to the highest point I could ever reach (I don't think I will be able to go any higher in the future) I wanted to show to myself and others that it is possible, that we can go beyond our limits and that the limits are our own potential. It is the idea of a barrier that creates the need to overcome it and therefore, go further than we expect.
I am aware that to be a traveler with sensory or physical limitations is not easy and some destinations are surely precluded. Climbing Mount Everest with one leg or completely blind are quite extreme cases but even these adventurers are proving that it is always possible. In more than 20 years as an independent traveler, I believe I have collected several tips that are making my trips much easier. I learned to ask for help very often, from anyone. I learned to use the services available, like the most basic assistance on airplanes. I travel to cheap destinations so I can afford a taxi instead of a bus, a rickshaw instead of a bicycle. I enjoy very simple things, like a meal on the terrace at sunset. I learned to avoid uncomfortable situations, like dark dancing clubs. I could easily stop a man on the street of Kathmandu and ask him to take me to the bar where the music was coming from. The beer was so cheap I could offer him one and make a new friend.
After the Base Camp experience, I wanted to expand the #YellowTheWorld campaign and make sure that the flood of yellow was really invading the world.
The Gods like it Yellow is the next step.This will be an adventure for visually impaired people. A trek along the Way of the Gods, an ancient Roman military road connecting Bologna to Florence.
A walking journey of 120 km in 6 days in May 2016. Traveling is one of the best ways to experience and discover the world, cultures and people. A trek allows us to perceive the details, to feel the atmosphere. For the visually impaired, walking is the best way to get to know one's surroundings, feel the ground under your shoes, sense the air, the sun and the smells around you. This allows us to appreciate all aspects of the world and of life that are not conveyed by the sense of sight. It will be an emotionally deep journey, discovering a part of Italy, but above all a journey to meet new people, share the limits and overcome them together.
You can read the complete announcement of the initiative here and register here.
Join me! It will be great fun!
In any case, I invite you to share this information and join the NoisyVision Facebook page to keep updated on the future projects.