Seeing Things
August 22, 2011
By Mark Dunning

"I like having Usher syndrome because I have gotten to see a lot of things." - Bella Dunning

The first place I thought of was Monterey. The wildlife is so close there and Bella loves animals. Harbor seals sleep on the beaches, the dark pupils of their eyes visible when they blink out of the sea and flop, flop, flop ashore. Sea lions argue and wrestle like siblings on the breakwaters or bark unpleasantries at the fishermen that chase them from boat decks with hoses. The mats of kelp sit heavy on the swells just off the pier and are home to families of comical otters waving and rolling, scratching and napping. 

The sky is gray in August, the mist cold and fresh. The canneries are gone replaced by colorful shops all tossed on top of one another, the usual tourist fare; chocolates and ice cream, "I'm with Stupid" t-shirts, Bubba Gump Shrimp restaurant and gift shop. Brown signs praise Steinbeck and eulogize the way things were; black cars with bald tires, tired men with cigarettes in their mouths, piles of fish still silver even in black and white photos. The aquarium sits unassuming at the end of cannery row. Inside it's an ode to what is outside with otters and thin legged birds and blue fine tuna and sardines and sardines and sardines.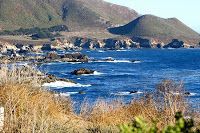 Take the Pacific Coast highway from the south. The vistas are beyond words. Thousand foot drops to the steel gray Pacific below, a rickety fence all that stands between fender and oblivion. The road crumbles in hairpins and drops and climbs up, up, up, until the ocean mist melts in to the clouds. Knuckles turn white on the steering wheel. Kids unconsciously slide toward the middle of the seat, away from the windows and the door that might accidentally flip open. Everyone giggles and gasps in awe. It has to be seen to be understood.

That's why I thought of Monterey when we first got Bella's diagnosis. I thought she'd never see it. It's a long way from the east coast where we live. It's too far. It costs too much. I hadn't been there in fourteen years and Bella probably never would be. She'd never see it and it had to be seen to be understood.

At the Usher Syndrome Family Conference in July, Bella sat on a panel and answered questions for the audience about what it was like to have Usher syndrome. At 12, she was the youngest of the panelists. When she was asked her thoughts about having Usher syndrome, she answered, to my amazement, that she liked having Usher syndrome 'because I have gotten to see a lot of things.' 

Now it was true that we had gone to Iowa via Chicago to visit Drs. Stone and Kimberling. We had also driven to Philadelphia to see Dr. Jacobson. And the Usher Syndrome Family Conference was in Seattle last year, so we took it as a vacation and went to Vancouver, too (long before my Bruins won the Stanley Cup there and set off riots). But I think Bella meant more than that. She meant she'd seen the leaves change in the fall and the snow piled three feet high and the hummingbird that likes to visit our daylilies. She'd seen me trying to coax another circuit around the lawn out of our lawnmower (it didn't make it) and seen her two year old nephew bright pink with popsicle drippings. It's something she's learned from having me nudge her to watch life closely, to pay attention to things she might never see again. I'm no sage. I'm just a dad terrified his daughter might lose her sight. But Usher syndrome has taught her well. 

See things while you can and enjoy them. You never know when you'll see them again.

A couple of weeks ago I had to travel for business. San Francisco one week, Los Angeles the next. I took the family with me. Over the weekend we drove down the Pacific Coast Highway to Monterey. Bella saw the aquarium, the wildlife, the vistas. She spent hours glued to the window of the car or the rail of a pier. I stayed on her shoulder, gently reminding her that she may never be back and she should be sure to take it all in. 

She reminded me to do the same.