Own the Equinox Day 7: Camino de Santiago, a 25th Anniversary Usher Syndrome Tour
August 29, 2016
by Bill Barkeley
Bill Barkeley is a deaf-blind adventurer, advocate & storyteller.
When I first found out I had Usher syndrome 25 years ago, I thought it was a death sentence. Blindness, added to a lifelong journey of deafness, seemed impossible to comprehend. It has been anything but that. In many ways, it may have been the best thing that happened to me. I won a lottery of sorts - one that introduces you to yourself and the unknown - the gap between doubt and fear is filled with adventure and elevation, which knows no bounds. 
In honor of Usher Syndrome Awareness Day, I'm hiking the Camino de Santiago - 533 miles from France into Spain - arriving in Santiago on September 17th.
I'm 15 days in on the hike in Spain, with 18 more days to go, and blogging regularly about my adventures.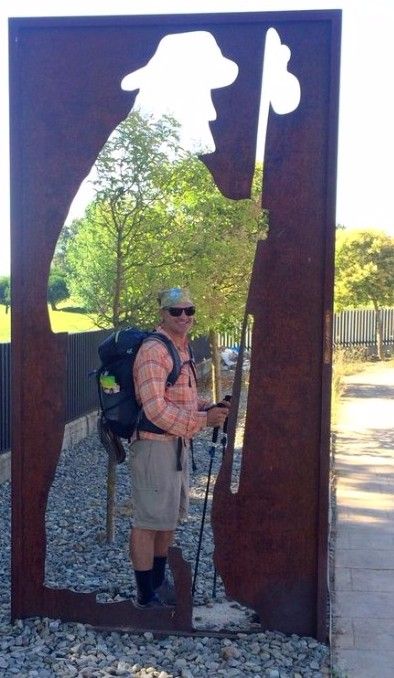 Bill Barkeley, deaf-blind adventurer
Here's an excerpt from my latest post, Persevere Through Challenges:
When I travel the world doing storytelling / public speaking engagements I talk a lot about how the beauty of life is the very struggle of life...day in and day out.
It is in the midst of our struggles, that we can find our own purpose and resolve. Struggles refine us, hone our skills and force us to make decisions around determination, persistence, resilience and a whole host of other fruits to be harvested and drawn on to sustain us when the backpack of life gets heavy.
As our rope team looks at the past 8 days hiking on the Camino de Santiago, we have struggled, had to change and adapt to what faces us (each hour and day) as we cross over the Pyrenees and the sprawling mountain ridges traversing the length of Spain.   
The difference between the possible and impossible is often found in the gifts of struggles and barriers known in such words as creativity, resourcefulness, teamwork, curiosity, learning, innovation and more…Read more.
This adventure project is to celebrate a life-long journey with Usher syndrome - a devastating disease that robs its victims of their hearing and vision progressively decade by decade. There are no treatments or cures.  After 33 days of hiking, my guides and I will be arriving in Santiago on September 17th in celebration of Usher Syndrome World Awareness Day.

If you are interested in supporting this project, you can go to www.classy.org/billbarkeley.

Thanks for reading and feel free to share with the world.

#USHEQX

#BILLSDEAFBLINDCAMINO
Learn more about Usher Syndrome Awareness Day and how you can Own the Equinox.