Own the Equinox Day 24, Part 1: The Making of the Usher Syndrome Awareness Bracelet
September 15, 2016
by Danay Trest
My name is Danay Trest and I am a member of the Board of Directors for the Usher Syndrome Coalition, a member of the Advisory Committee of the Mississippi Hearing-Vision Project, and a volunteer for Cochlear America. I enjoy spending time with my husband and family. My "Sight List" includes several places I want to see so I am planning future vacations to visit them!
I enjoy participating in social gatherings with friends and of course, I enjoy "MY TIME" in the yard, piddling with my plants, and sitting by the pool listening to country music with my four dogs sitting beside me.
Creating the USH Awareness Bracelet, aka the #USHBRACELET, came about several months ago, as I started thinking about something I wanted to give to people when I am sharing information regarding Usher syndrome (USH). After thinking of several ideas, I decided on a bracelet. When I began to search the internet for an Usher syndrome bracelet, I discovered there were very few choices. During my search, I learned that I could create my own design!   
Then, I focused on brainstorming and thought about what color should it be and what do I want it to say? I began researching and wondering "was there an awareness color for USH?" The only color I found was blue with the word 'USHER'. I researched more and thought about how USH mainly affects two of our senses causing deafness (or hearing loss) and blindness (or low vision). I discovered the awareness color for deafness/hearing loss was grey and the awareness color for blindness/low vision was white. Therefore, grey and white became the colors of the bracelet.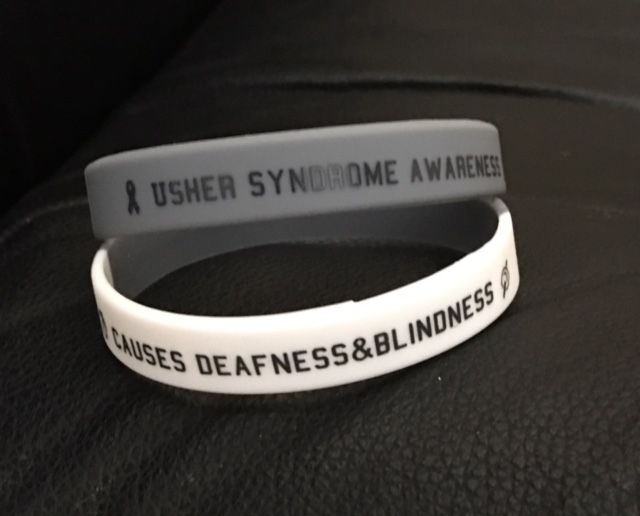 The next step was to determine what I wanted to have printed on the bracelet. The bracelet is segmented with two colors. The grey side of the bracelet begins with an awareness ribbon followed by "USHER SYNDROME AWARENESS" followed by an awareness ribbon. The white side of the bracelet begins with a deafness symbol followed by "CAUSES DEAFNESS & BLINDNESS" followed by a blind symbol.
My passion in life is to spread awareness of Usher syndrome and advocate for the deafblind community. Recently, I was honored to have met with Mississippi's Governor Phil Bryant, and witnessed him signing a proclamation designating September 17, 2016 as Usher Syndrome Awareness Day! I then had the opportunity to share with him my USH awareness campaign and explained how I designed the USH bracelet. I was humbled that he accepted my offering of an USH bracelet and posed for a picture. This will forever be a memorable event for me!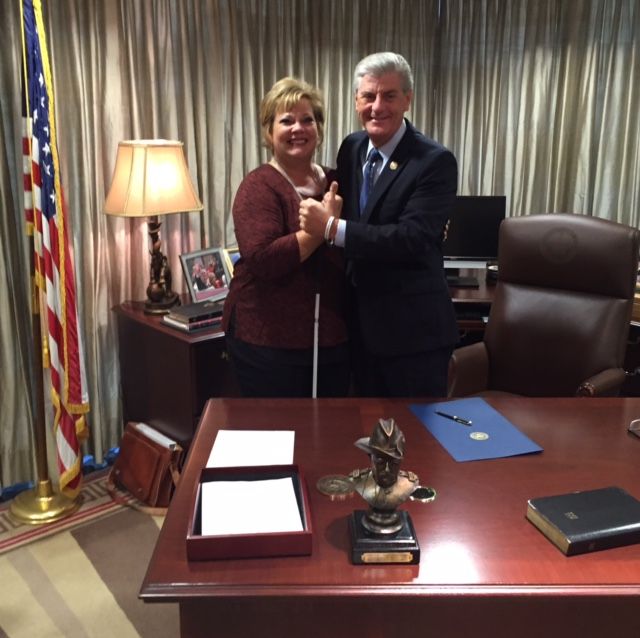 Danay and Mississippi's Governor Phil Bryant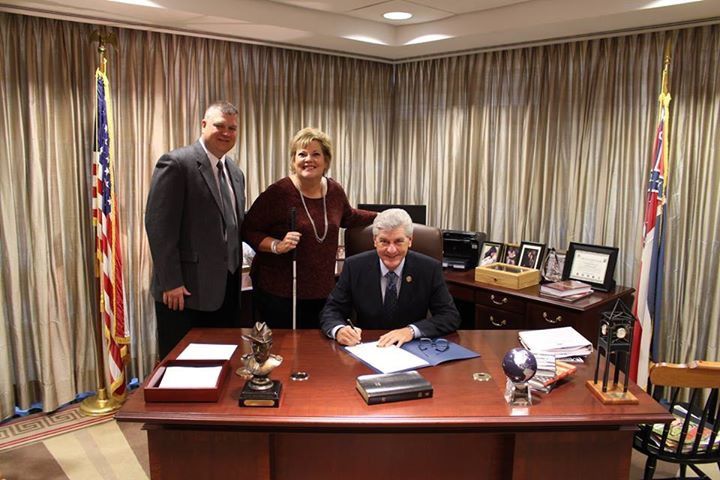 Mississippi's Governor Phil Bryant signing proclamation designating September 17, 2016 as Usher Syndrome Awareness Day!
I dedicate the making of the USH awareness bracelet to the approximate 400,000 people affected with USH around the world. Keep your FAITH! We are keeping on, staying strong, and we are going to #CRUSHUSH soon!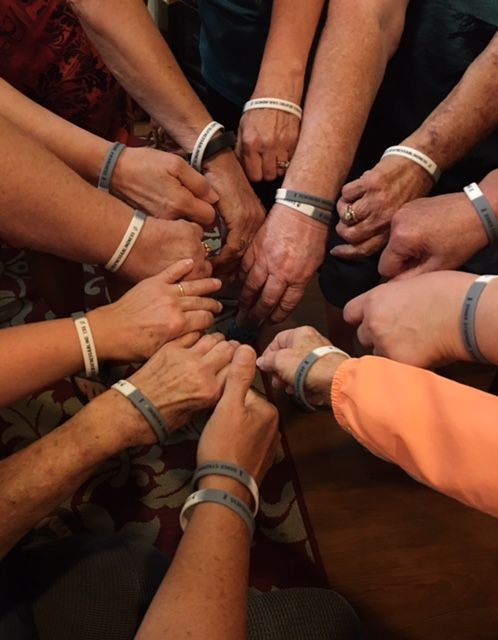 The bracelets are $2.50 each (plus $3 for shipping costs). If you are interested in purchasing USH awareness bracelets, please do the following:
(1)  Send an email to take5another5@gmail.com with USH bracelet as the subject.
(2)  Include:
Your name and Ship To address
Quantity (total number of bracelets)
Your email address so I can send you an invoice through PayPal.
As soon as I receive your payment, your order will be shipped the following business day.
All proceeds from sales of the USH awareness bracelets are donated to the Usher Syndrome Coalition. If you are not interested in the bracelets, but still want to donate, please consider donating directly to my fundraiser page! 
Learn more about Usher Syndrome Awareness Day and how you can Own the Equinox.