Own the Equinox Day 17: When There is More Than One Voice
September 8, 2016
by Hollie Feller
Daniel and Hollie Feller are the parents of Harry Feller, aged 5 with USH 1F. He is their third child, following Tess aged 13 and Alice aged 10. They all live in Melbourne, Australia, the home of the cochlear implant invention. Hollie co-founded UsherKids Australia in February 2016 with Emily Shepard, another Melbourne USH Parent. They have created a support and education network for families with children with Usher syndrome in Australia. Harry was diagnosed through genetic testing when he was 3 years old. 
Harry's Journey
Three years ago we read an article in the local Herald – Sun newspaper about a 3-year-old boy experiencing a helicopter ride to build up a visual image bank because he was losing his sight. This little boy was also profoundly deaf and had cochlear implants. He had just been diagnosed with Usher syndrome, which we discovered via Google is the leading cause of deaf-blindness in the world.
When we read this article it stirred something in my husband and he didn't sleep for sometime with the worry that this may be the cause of our son Harry's deafness. Was it just a coincidence that this little boy also had bad balance and didn't walk till he was nearly two and a half? Or was it simply just parental gut instinct that led us to push for an answer.
The process to find out if it was actually the cause was not easy. It is not straightforward to request genetic testing in Australia for kids, simply to be able to put to bed our fears about a rare condition that we had a 1:650,000 chance of having given to our child. The cost is just too prohibitive and so we were asked to jump over many hurdles and be downright pushy to get the testing approved. In 2013 the cost for testing the most common 90 genes that cause deafness was several thousand Australian dollars. The test was only done in the USA, as Australia didn't have the facility to test economically at this point. This is no longer the case. In the last three years the price has halved and it can now be done easily and efficiently in Australia.
We were given a confirmed diagnosis of Usher syndrome type 1F on Rare Diseases Day (how about the irony in that?) late Feb 2014. In July that year, I travelled to Boston with the family to the conference held by the Usher Syndrome Coalition. I was still extremely raw with the diagnosis at this stage but looking back the fact that this once every 4-year event was happening four months after we had our confirmation was more than fortunate. Attending this event brought me clarity and most importantly real hope for Harry's future. The focus was on sharing news about the scientific endeavors that geneticists and researchers worldwide were working on to modify the genes that cause the eye disease Retinitis Pigmentosa (RP). It was also amazing to connect with other families going through the same journey.
During this visit I was privileged to have a chat with one of the lead scientists. This doctor found the time to sit with me in a quiet corner to answer all my questions whilst many of the other researchers and families were also vying for his time. And when I say a chat, it was close to an hour and a half that I grilled this esteemed man for all the hope he could share about Harry's future.
When I asked him how he had the patience to spend so much time with the families, he simply responded that if a doctor in his line of work was not prepared to sit still until every question the family needed answering was answered, they should be working on other areas of the industry. This was the mantra he reiterated to those Ph.D. students lucky enough to work with him in the lab.
This doctor shared with me some of his wisdom and his words echo in my thoughts every day as their poignancy was so acute I need to make sure every newly diagnosed family hears them.
The most natural thing you want to do when you get a confirmation that your young child has Usher is to ask, "What can I do?"  
When I posed this question, he told me simply to do this:
Go home and enjoy these years with your child, who by all intents and purposes is living the fullest of lives. The cochlear implant has brought him speech and language and the RP has yet to take hold.  
He went on to describe the process a parent of an USH child goes through in those early diagnosis days. He spoke about how the first thought that entered your mind when you woke each day was Usher. How the last thing you thought of before you fell asleep was Usher and that in between there were countless times when Usher was confronting you in your waking thoughts.
He compared it to having a plastic bag over your head, stopping your even flow of breath, that for up to 18 months or two years, that plastic bag would remain over your head, but slowly, little by little, month by month, small holes would emerge in the plastic bag to allow some air in and give you a chance to catch your breathe. During these first 18 months more and more small holes would appear to gradually let more air in and eventually the plastic bag would be entirely covered in holes, allowing you to be free to breathe normally. After approximately 2 years Usher would stop becoming your first waking thought and the last thing in your mind as you fall asleep.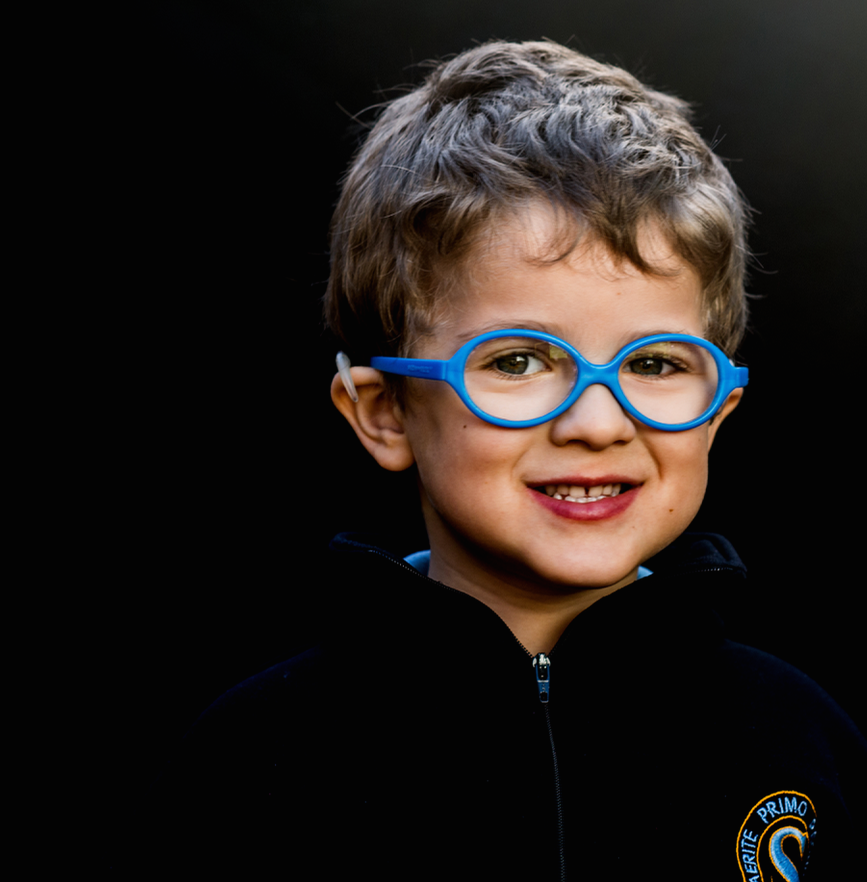 I returned with renewed vigor and a strong sense of hope. I knew that we could do better than we were doing in Australia to identify Usher syndrome in young children and support other families through the education of key clinicians across the country. I can't begin to tell you how many specialists told us we were crazy to think Harry was going to get this diagnosis. Comments along the lines of, "Many deaf kids have balance issues"…. "many deaf kids don't walk until much later"…. echoed through the halls of doctors rooms we visited.
It was simply that in their careers these cases never emerged, the stats didn't add up in a small population like Australia. Traditionally USH was identified when the children started tripping over their pets in their teens, not via genetic testing that categorically confirmed its presence.
I hold no issue with what was said by these clinicians before the diagnosis, but I knew we could change things. We could change things because now we were two: two families in one region with all the same doctors. We had the power of our voice to advocate for all families with kids with USH in Australia. And so UsherKids Australia was born in Feb 2016 as a support network for all families in Australia to find information and unite under one banner for awareness and a cure.  Please review - http://www.usherkidsaustralia.com
But that's not where it stops; in fact we are just at the starting blocks. Since the launch of UsherKids website this year we have 10 families, not just two, who are united. Those with the syndrome range in age from 9 months to 16 years, covering both Usher 1 & 2.
We have coordinated to bring them together (some virtually and some in person) at an event for Usher Syndrome Awareness Day on September 17th where we have all of our clinicians and doctors joining us, along with researchers from the Centre for Eye Research Australia to talk about what science wants to do for inherited eye diseases. We also have Mark Dunning as our keynote speaker, which we're all a little bit excited about.
So, in three years we have moved from being comfortably happy as parents of a deaf child, to distraught in finding out it wasn't the full picture, to rising against the wave and forming a network to support our families and as many others as we can find within our meagerly populated country to navigate a path that leads to the cure for Usher syndrome in our kids.
This is not a part of the journey we had signed up for, but we are in for the whole ride.
All we ask is if you can support us in any way that you can. Share our feeds, help create awareness.
Usherkids is on:-
Instagram       @usherkidsaustralia
and twitter      @usherkids
Harry's Ears our personal blog is now on:-
Instagram        @Harrys. Ears  
and at              www.harrysears.com
Learn more about Usher Syndrome Awareness Day and how you can Own the Equinox.