Own the Equinox Day 11: Usher Syndrome: A Lifelong Companion
September 2, 2016
by Bettina Kastrup Pedersen
Bettina Kastrup Pedersen works as an Educational Consultant at the Center for Deaf-Blindness and Hearing Loss in Aalborg, Denmark. She has held several workshops at different conferences in Europe about her work with children with Usher syndrome. Bettina is also co-author on a small booklet called Children with Usher Syndrome: Inclusion in the Mainstream Schools. It can be found on the National Board of Services website.
My name is Bettina Kastrup Pedersen.  My job is to provide advice and services to families of and professionals working with children from birth to age 18 with Usher syndrome. Primarily, I work with children with Usher syndrome type 1, but occasionally I work with kids with Usher syndrome type 2.
I have been familiar with this group of children for almost 20 years and have been working as a consultant for Usher syndrome families for the last 9 years. Last year for the Own the Equinox campaign, I wrote a blog about children with Usher syndrome. This year I would like to focus on their parents and siblings. To describe children with Usher syndrome, I like to use the words: fighters, surfers and brave. I use the same words to describe their families.
My thoughts and comments below are a summary of what parents and siblings have told me about their experiences. I want to emphasize that I am writing this with all due respect for the families and children with Usher syndrome.
Fighters:  Every day parents of children with Usher syndrome have to fight for awareness and proper support for their children, in their various environments. They have to think about the future of their children, giving them the best possible foundation. Additionally, they have to let their children live a normal life.
The siblings often have to step back and accept the fact that their parents have to struggle for the sibling with Usher syndrome. These kids are often fighting to do their best in all aspects of life. Sometimes even struggling with guilt because they didn't inherit the gene. My experience is that it makes them strong, but at the same time very vulnerable.
Surfers: The parents have to be able look for treatment and help anywhere possible. In many countries support has to be found through fundraising. It therefore requires parents to do a lot of work, spending an enormous amount of time and energy to raise money and awareness for Usher syndrome.
Brave: Tirelessly the parents keep on fighting, even though life can be cruel and they constantly need to face the fact that Usher syndrome is a lifelong companion.
The siblings have to be brave and accept the fact that their parents in some periods of their lives have less resources for them, focusing instead  on the child with Usher syndrome.
Needless to say, it is a lifelong project to be a parent or sibling of a child with Usher syndrome.
Even though this might sound like a generalization, I acknowledge the fact that every family having a child with Usher syndrome is, of course, as unique as the rest of the population and has to be treated as such.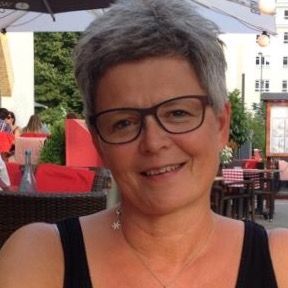 In my work, the most important thing is to be humble and able to listen and guide both parents and siblings to help them cope with their situation as well as possible. This often takes many years because a trust has to be created between us. They meet so many professionals but still they are "the leading characters" of their lives. As professionals all we can do is to guide and support.
My job is to bring awareness and knowledge into the "arenas" of the children's daily lives. My colleagues and I do this by direct guidance to the professionals in the different networks around the children. We also facilitate courses, create articles and other types of elucidation (building awareness).
The main purpose is to try and help the child but of course also to make it easier for the parents.
We collaborate with consultants who give guidance and advice to adults with Usher syndrome in order to have a lifelong perspective. We also collaborate with the National Board of Public Services in order to create more awareness in society.
And most of all we have a very close connection to FDDB, The Danish Federation for Deaf-Blind People. Especially the parent federation section.
Once a year the families gather for an entire weekend. This weekend is arranged by FDDB. The parents get new knowledge about items that can help them cope in their daily lives as parents of children with Usher syndrome.
The children with Usher syndrome meet their friends. Children with other kinds of duel sensory loss also attend the weekend. It is also an opportunity for he siblings to meet others with similar challenges.
My colleagues and I always try to be apart of this event. It's an amazing opportunity to get to know each other in a more informal way. In this context I can get an idea about the families and their needs. Furthermore, we give the parents information about what is new and relevant.
I am not able to run a marathon, but I promise to walk 10 km on the 17 of September 2016 in honor of Usher Syndrome Awareness Day.
I am still a member of the Usher Network Committee of Deaf-blind International. The committee has a strong goal to spread knowledge through their website. In September 2017, a European conference on deaf-blindness will be held in Aalborg. I live in Aalborg and my organization will be hosting this conference. In addition, there will be a pre-conference for Usher syndrome and my goal is to bring early intervention in as a topic.
Learn more about Usher Syndrome Awareness Day and how you can Own the Equinox.