Own the Equinox Day 1: Journey through hearing and vision loss: Living with Usher syndrome
August 23, 2016
by Martha Steele
Martha Steele is a Member of the Board of Directors of the Usher Syndrome Coalition, as well as the Board of Directors of the Carroll Center for the Blind in Newton, MA. She also serves as a National Trustee and Boston Chapter president of the Foundation Fighting Blindness.
The Journey Begins
Today, I begin with my guide dog, Alvin, a walking and literary journey over the next 26 days during the Usher Syndrome Coalition's "Own the Equinox" campaign leading up to September 17, Usher Syndrome Awareness Day, declared in 2015 in the U.S. Congressional Record as the third Saturday of every September. Each day from today through September 17, Alvin and I will walk at a minimum one mile a day and often much more to help raise awareness around the globe about Usher syndrome, an inherited disease robbing individuals of both their vision and hearing and leaving many with balance issues. At the same time, I will enter a daily post journeying through my life experiences with Usher syndrome.
This journey will commence with the early diagnosis of hearing loss and continue through to the present, chronicling triumphs and challenges, joys and tears, and optimism and fears.
At age 64, I am recently retired from working with the Commonwealth of Massachusetts and split time between the Boston area and northeastern Vermont, where my soon-to-be 92-year old mother lives. Since my retirement a year ago, I have received my first guide dog, Alvin, from the Guiding Eyes for the Blind, and we work hard every day to achieve a poetry of motion, fluidly and effortlessly navigating the environment based on mutual trust.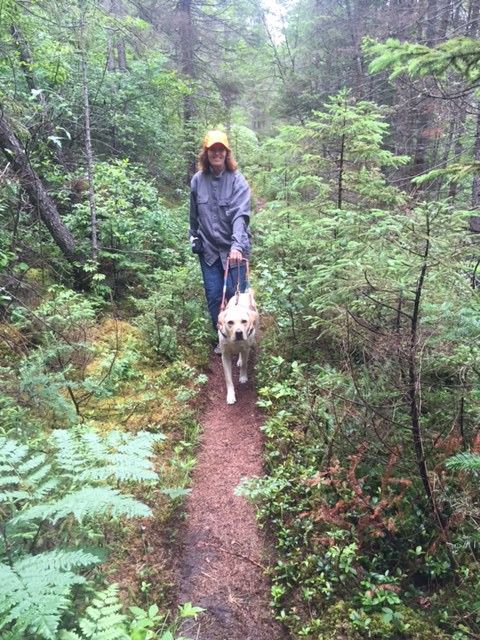 Coping with a disability is easier when you have supporting family, friends, and colleagues surrounding you. At the same time, I think it is important to learn to live with your disability and not fight against it. Learning how to cope with your disability and how to enhance your engagement with whatever community you choose to be part of usually elicits a far more positive response from others to you as a person.
I have certainly been fortunate in all the support that I received over the course of my life, and during this blog series, you will hear about some of the people who have helped me along the way. I have Usher syndrome, but it will not stop me from engaging with the world around me and being part of many communities that matter most to me.
So, hitch up and hang on. We have begun our journey together.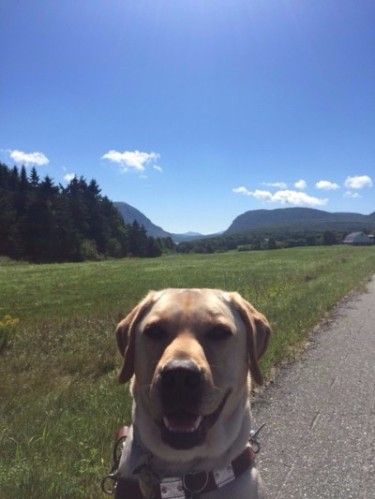 Alvin with Mt. Pisgah and Mt. Hor in the background, Westmore, Vermont, August 23
August 23, 2016: 26 days until Usher Syndrome Awareness Day
Miles Walked Today: 7.5 miles in Westmore, Vermont
Miles Walked to Date: 7.5 miles
Learn more Usher Syndrome Awareness Day and how you can Own the Equinox.
Follow the rest of Martha's journey on Medium.com.
Tomorrow: The First Sign: Hearing Loss