My Journey to Self-Awareness | Own the Equinox, Day 26, Part II
September 19, 2015
By Diana Velarde
Diana is 32 years old and from the north of Mexico. She lives in Mexico City and has Usher syndrome type II. She received a Bachelor in Electronic Systems Engineering from ITESM, where she was coordinator in a students' group to support deaf and hearing impaired students. In 2011, she went abroad to study a Master of Business Administration from Newcastle University in the United Kingdom, where she graduated with distinction and got the Best Student Award. Today she works for a multinational firm as an Advisory in Mergers & Acquisitions.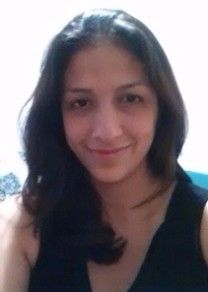 I was diagnosed with severe hearing loss when I was 6 years old and started to use hearing aids a year later. As the only person in my family who had hearing issues, I didn't have contact with other people with similar issues, until I went to college. While I was there, I joined a group and met other hearing-impaired and deaf students. I even took sign language lessons. However, when I finished my bachelor degree and took my first full-time job, I stopped all contact with that world. I guess I was trying to be "normal" and "fit in".
All was going well, then I was diagnosed with retinitis pigmentosa (RP) at 25 years old. Soon, I was told that I have Usher syndrome. At that point I had night blindness, but beyond that my sight seemed normal during the day time.
Still, learning about the progress of RP was devastating, now knowing I can become fully blind in the future. I became depressed for some months but then decided to continue my life as usual. Only my family and closer friends knew about my disease. The vision loss continued and a couple of years later I began to see other effects in my sight. In that moment I decided that it was the right time to get a postgraduate degree abroad. I got the feeling that waiting would impede me to achieve that dream. I went to Newcastle upon Tyne, in the United Kingdom. 
When I was abroad, I realized I was avoiding meeting others with Usher syndrome or retinitis pigmentosa.  Four years after my diagnosis, for the first time I searched on Facebook for groups of people with USH or RP. I found some groups and joined them. It was a relief to know I wasn't alone! I read depressing and brave stories. I tried to focus on the latter. I went back to Mexico and took a job in Mexico City, moving there almost 2 years ago.
This year, I don't remember exactly why, I began to become more active in the Usher syndrome groups. I was invited to participate in a book project written by people with Usher syndrome. I have met people with Usher syndrome online and learned from them and their journeys. Some months ago, I sent an email to Mark Dunning asking if there was any way to help the Usher Syndrome Coalition. This is how I ended up joining one of the most exciting projects of my life: the "Own the Equinox" challenge, to promote the first global Usher Syndrome Awareness Day.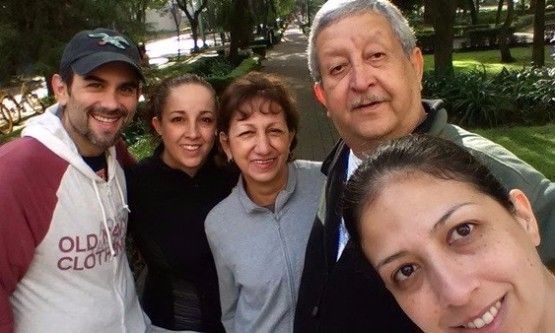 I never had been ashamed of having Usher syndrome but I now accept hat I was living in a "bubble", in a world where I was pretending to be normal.  In Mexico, there isn't an institution where I could meet others with Usher syndrome and honestly I didn't try to find one. It was easier to pretend that I could manage this disease in the same way I have been doing all these years. Thinking I didn't need to know others with Usher syndrome or that I could do it by myself. I know, I fooled myself and was so naive. The truth is, for some time now I have perceived that my sight is getting blurrier and that my vision field is narrowing. Suddenly, I can't be normal and being capable to manage isn't enough anymore. I want to keep my sight and get a cure.    
So, I had to leave the bubble. Realizing I truly want a cure motivated me to openly disclose that I have Usher syndrome. Now, my 540 contacts in Facebook may know I have it. I want to create awareness and maybe more. These days, I read amazing stories of people around the world who are fighting for a better quality of life for people like me and find ways to support research. Those stories opened my eyes to the fact that I could do so much more for others with Usher syndrome and that there is still a lot to do globally and locally. I don't know what I can do in Mexico but with the support of the Usher Syndrome Coalition, I hope I will find a way. Now, I want to find other people in Mexico with Usher syndrome. I am convinced that, as we have a very rare condition, we should not be divided in groups for every country but be part of a global institution. The Usher Syndrome Coalition is great for that. If they allow me, I will become a more active member to help finding a cure, from wherever I am. I want to meet people from the Usher Family in the entire world. I will embrace them. We need each other for our next steps.
Today, a first step was given by me and others. We are about to end the challenge and I have learned a lot. I was surprised that I had been able to finish, as I always had been the girl who hated to exercise. The gift was the amazing support from my friends and family.  However, the greatest achievement for me is my own commitment. I found the strongest motivation I never had before to get up and walk/run one mile a day: all these days I got up thinking that being inactive isn't an option anymore. Moreover, for me running a mile-a-thon to spread awareness won't end on our first Usher Syndrome Awareness Day. It will go beyond that. We are running a race against time to find a cure. We cannot stop.
Learn more Usher Syndrome Awareness Day and how you can Own the Equinox.