Molly's Thoughts on #USH2014
July 24, 2014
The International Symposium on Usher Syndrome and 6th Annual Family Conference held at Harvard Medical School and hosted by the Usher Syndrome Coalition - 10th to 12th, July 2014
by Molly Watt
I was lucky to meet Mark, Julia, Bella and Jack Dunning a few years ago in Boston as a result of my mum finding the Usher Syndrome Coalition online.
Networking has been a godsend to my family and me as we managed to reach out to others living with Usher syndrome just like myself and found information and support, which appears to be lacking throughout the world.
Mark suggested quite a while back that I might be invited to speak at the above event. Naturally I was very flattered and excited to be considered for such an occasion. The formal invitation arrived soon after.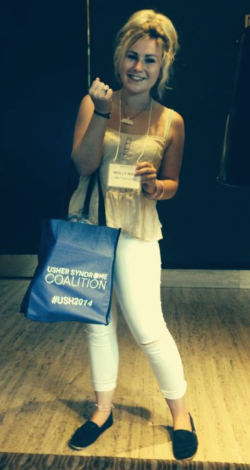 This year has been almost unbelievable. I turned a corner, the torment of previous years eroding thanks to my parents, staff and friends at Strodes College, and my dear counsellor Norma.
I made my most recent video, which went viral. I was very surprised.
I was made an Ambassador for Sense. I have spoken in several large hospitals here in the UK, lots of schools and youth clubs, most recently the House of Commons in London, and now Harvard Medical School. I've appeared on radio and television and my message is always about positivity and raising awareness of Usher syndrome, as awareness leads to support and then success.
I'm not going to blog about the awesome presentations about research as it was very in depth and I'd hate to get it wrong. That said, hearing about all the Usher specific research was uplifting and gives us all hope for the future.
I have faith in science. In the meantime, life goes on. I believe with determination and the right support, people with Usher syndrome can do great things. It's never going to be easy, but I refuse to let this condition rob me of my dreams. Whilst there is such excellent technology to allow access to sound and text, our world is accessible. As I've said before, "My world might be tiny, but my determination spreads the word."
At what became known as #USH2014 I met many people I know from networking, along with their families and new friends. I was shocked that some had heard of me – this shows how the Usher community around the world are all looking for each other. As Mark said, you don't just find another person living with Usher syndrome around the block!
There were people from 12 countries at the conference. It was an amazing coming together.
I was so pleased to see Bella Dunning. She's going to be very tall like her dad. It was like old friends meeting; we had both grown up, Bella both in age and height, me just in age! We had lots of catching up to do.
Bella has Usher type 1b and cochlear implants. I have Usher type 2a and hearing aids. We both communicate orally, but Bella can communicate with ASL and I, a little BSL. I thought, how glad I am we both are oral so we could have a private girly chat, but had she and I signed we would have been speaking very different languages, as BSL and ASL are very different.
Communication really is a huge issue for people with Usher syndrome and I have to agree with one of the presenters who felt that, if possible, all with Usher - children particularly - should have speech as a first language and signing as a back up. This completely makes sense to me.
Bella will always be a special friend, as Usher syndrome brought us together from all the way across the pond. That's pretty cool.
I enjoyed listening to the Usher Ambassadors, each with a different story, but on the whole lots of positivity. This makes a huge difference. As somebody said, "did you know Usher syndrome is not a killer?"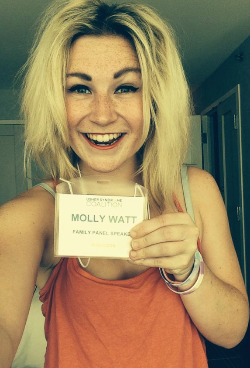 My part in #USH2014 was to be on the Family Panel along with four others - it was a sort of questions and answers situation and we were each able to speak on our personal Usher issues. There was passion, enthusiasm, humour, honesty and laughter. It was such a pleasure to be invited to be a part of such an amazing event with an audience of others with Usher syndrome, their families, scientists, researchers and specialists.
After the talks, we all headed off to the BBQ where I was approached by so many people who congratulated me on what I had said and the things I do. I cannot tell you how good it feels to be told by a parent of a young child with Usher that I inspire them. It makes me want to do more for the community I am a part of. I can only describe it as very, very special.
I have made more friends with Usher all over the world and have contact details for some professionals, too. I should add they were so approachable, which made a huge difference, just being able to chat to specialists from all around the world. Big thanks to all at the Usher Syndrome Coalition.
I believe next year the Conference will be in New Orleans. How I'd love to be there, but I'll be a very poor student just finishing my first year of university, all things going to plan. But hey, who knows? Mum plays the Lottery!
About Molly
For those who don't know me, I'm Molly Watt, age 19 from the UK and have Usher syndrome type 2a. I was diagnosed at 12 years old. Since diagnosis and coming to terms with my diagnosis, I learnt very early on of the lack of awareness of the condition. As a result, I set about raising awareness of Usher syndrome by making videos when I was 14, then by doing talks wherever I could, to whoever would listen.
Together with my parents, we set up a Charity here in the UK to raise awareness of Usher issues and to fundraise for Usher projects, which has led to me presenting all around the world. This is something I will continue to do, in an endeavour to spread understanding and make life with Usher a little easier for all.
Everybody should be just a little #usheraware
Onwards and upwards...