Independence Day
July 28, 2014
by Charlotte DeWitt
In an inspired moment of bravado, someone you know decided to go undercover and pretend to be blind, white cane and all, at Boston's annual July 4th celebration, moved to July 3rd due to Hurricane Arthur.
I had to be nuts! But I really wanted to experience what an Usher 1 person would encounter attending an outdoor public event with nearly 100,000 people cheering fireworks at Boston's Esplanade park along the Charles River. That was the low side of estimated attendance, Beach Boys and all, as normally on July 4th, there are 600,000- 1 million people listening to an outdoor Boston Symphony "Pops" concert at the Hatch Shell, picnicking, and revving up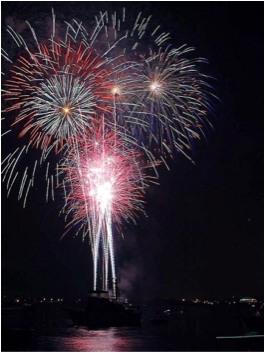 for the traditional finale: a performance of the 1812 Overture (Boston's summer equivalent of Handel's Messiah at Christmas) and fireworks.
Arthur, however, had a few things to say about that, and the authorities listened, shortening the concert by eliminating the 1812, and shortening the fireworks… just in time, as within 15 minutes, the heavens opened up with no warning, and pounding rain drenched everyone. Just as they evacuated the park.
Now I suppose that's OK for most people—it was, after all, nearly 80F—but the question remains, with myself as the undercover blind person—how many hands does a deaf/legally blind Usher Syndrome person have, especially one with advanced RP (retinitis pigmentosa, or tunnel vision, for the layman)?? If you are deaf and can't see at night, how do you simultaneously hold a white cane, hold the shoulder or arm of a friend for guidance, hold an umbrella, and "sign"? And if your friend doesn't know sign language, how do you write your communication, hold a flashlight so you can see the page, and juggle your white cane and umbrella, all at the same time? And that's if you don't get hit by a car as you're trying to cross the street.
But I digress, as there was, with foresight, a flashlight… just not one that I could manipulate, while I ambulated (or should I say stumbled) with my white cane (and cheating, as I could see, even though I pretended I could not). Oh, and I forgot—my solution to the umbrella situation was that I brought a couple of bags from the dry cleaners. Easy solution for a poncho, which I didn't own, light-weight, actually perfect… as long as it didn't cover your nose and mouth while you were breathing. That could have been nasty. Still didn't prevent me from wading across flash-flooded streets, though.
Boston's quaint cobblestones are uncompromisingly challenging to a white cane user. Just as you think you're getting the hang of swinging that cane in an arc in front of you, left/right, left/right, sweeping the sidewalk clear, you, leading the Charge of the Light Brigade going down Clarendon Street towards the Charles River and the Esplanade park, WHONK! Your outstretched arm is propelled into your gut because that stupid little red ball at the end of the cane has encountered an immoveable object: an irregular cobblestone victimized by frost heaves during the Ice Age.
Then there was the incident where (I confess, it was deliberate) I allowed the cane to go between the legs of a 20-something-year-old young lady who wasn't paying attention to my Pilgrim's Progress and cut in front of me. She apologized profusely.
But I forget—in this exercise, I am also supposed to be an undercover deaf person (an older Usher 1 victim without a cochlear implant) who is also legally blind. So technically, I should not have heard her apology. Actually, I wouldn't have heard the Beach Boys, either, but that is another story.
My pride would not let me put a sign on my back (sort of like "Danger: heavy load" that you see on the gravel trucks). I naïvely thought the white cane should have been enough of a concession.
Well, that's OK, but only during the day. At night, everyone else is as blind as I am. What white cane? But then, they can hear, and that gives them a decided advantage.
That brings me to switch hats and assume my real life alter-ego: that of a public events producer on the scale of the finale of Singapore's Millennium Chinese New Year's celebration.
In spite of the fact that this was the 41st July 4th celebration on Boston's Esplanade, in spite of the fact that America has been celebrating Independence Day since 1776, in spite of the fact that people today profess to be super-sensitive to the special needs of disabled people… in spite of all this, I (the illegal deaf/blind person) heard or read of absolutely nothing concerning provisions for people with "my"
 (or any) disability. It begs the question: Is the burden of discovery all on the person who is deaf and blind, or is there a moral obligation for public officials to ensure the safety and well-being of all people attending a public event, especially an annual event (not a one-off) of this magnitude?
Frankly, from the perspective of my new alter-ego, I was shocked.
I am coming to realize that as intelligent as a deaf/blind person may be, as motivated, as schooled in such things as mobility training with a white cane, sign language, tactile signing, lip reading, etc., our society—the world's society—is not set up to allow a deaf/blind person to be fully independent, no matter how much the person wants his independence.
For example, if you have vision problems, Boston's Back Bay underground train station platform is a dungeon. The only notice of an approaching train is the vibration of the platform as the train approaches. There are no electronic signs saying "Providence: Track 1." There is only a garbled loud speaker announcement which hearing people even have difficulty understanding. If the track changes from track 1 to track 3, the only announcement at the platform level is an audio announcement. The good news is that there is a wide yellow "bubbled" strip just prior to where you would fall over onto the tracks. Except that if you are blind, it is only your feet that will notice this… hopefully in time.
In my fantasy identity, I have a genius level IQ. I have graduated from two universities, a total of nine years of full-time academic programs. I WANT to be independent.
 Unless something changes in our society, I don't see it happening.
 Happy Independence Day.
 Charlotte DeWitt
July 4, 2014
Boston, Massachusetts
About Charlotte DeWitt
Charlotte DeWitt is is the aunt of an inspirational Usher1 person and a member of the 2014 International Symposium on Usher Syndrome & Usher Syndrome Family Conference committee. She's collecting stories for a future book portraying those who have Usher and would love to hear from you. 
 In her other life, she is a member of the International Festivals and Events Association Hall of Fame, the industry's highest honor. As president of International Events, Ltd., she has served as a cultural ambassador and events architect and strategist in some 30 countries since 1979. Charlotte is founder/ past President/CEO of IFEA Europe and lived in Sweden from 1994-2004.