Finnegan Returns to South Beach
December 17, 2015
by Moira M. Shea
Vice Chair, Usher Syndrome Coalition
Finnegan and I just got back from spending five days in South Beach, just the two of us. For clarification, Finnegan is my beautiful golden retriever boy from Leader Dogs for the Blind. They have a very unique program for the deaf-blind where they train the dogs to understand sign language. I have Usher syndrome 2A, I wear two hearing aids, and I am totally blind.
My husband and I went to South Beach in March, and stayed at the Marseilles Hotel, we had a nice time, right on the beach. There are lots of pedestrians in South Beach, from all around the world. All the streets have talking signs to let you know when it is safe to cross. I took this all in, thinking 'I can come here with Finnegan and we could do fun stuff together.'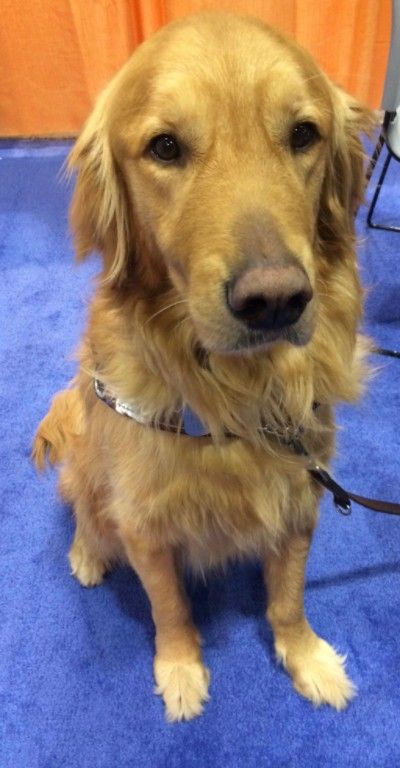 So this past week that is what we did as my husband went off to work every day. We arrived at the Miami Airport, and voila! There was a very nice woman waiting to escort me to the taxi stand. After a short taxi ride I arrived at the hotel; right away the bell man, Louie, was there to guide us to the front desk. Then Louie showed me to my room, explained where the thermostat was, the bathroom, and the phone.
Once Finnegan knows which room we are in, I can always count on him to take me right to our door, where I double-check by feeling the raised numbers on the room number sign.  He can also always find the elevators too.
Once we were settled in, Finnegan and I went to the outside café where I enjoyed a salad. Then Cynthia arrived, the office manager for the hotel. I had met Cynthia in March, and immediately was drawn to her ebullient personality. So Cynthia and I reconnected. She loved Finnegan (she has a golden retriever named Milo, hence the connection.)
Everyone at the hotel was very hospitable, and treated Finnegan like a rock star. I could tell from his swagger as people said hello to him that Finnegan knew he was top dog. They watched us come off the elevator, Finnegan would turn right and walk through the lobby and then he would stop to let me know that we were on top of the stairs to go outside. I could feel people rushing toward me, wanting to grab my arm, but soon they all trusted Finnegan with my safety. Every morning, Finnegan and I would head out, turn left and walk two blocks to Lincoln Road. There we would turn and walk to this little carry out place where I would place my order for a Cuban coffee and a chicken empanada, my perfect breakfast.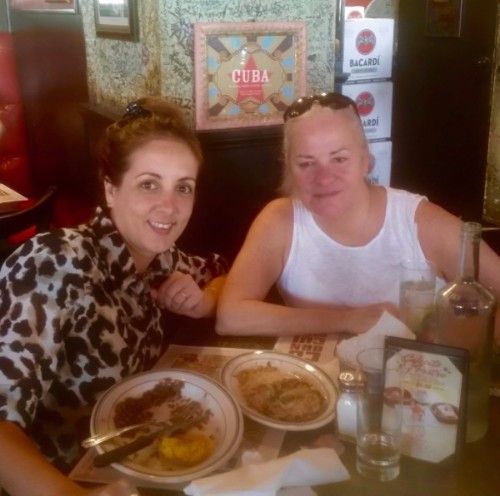 For lunch I would go to one of the many wonderful restaurants in that area for a salad. One day, Cynthia and I went to a great Cuban restaurant for lunch. Finnegan stayed by Cynthia's side as we traversed the sidewalks, walking me around puddles, and avoiding collisions with people looking down as they text away.
I did have one scary experience. Finnegan and I took the elevator down to the lobby. We got off and instead of turning right to the front door, I directed Finnegan to go left and up to the stairs to go to the back where the pool was. Finnegan would go left, but was not finding the stairs. He just would not take me anywhere, not even to the front door. We were circling around and I lost my sense of direction. I could tell that Finnegan was as confused as I was. It slowly dawned on me that we had gotten off on the wrong floor. I felt around, there were all kinds of doors, cleaning tools, and I could not find the elevators. I realized we were in the basement! I took out my cell phone to call Cynthia, but there was no service in the basement. Panic welled up inside of me. I thought no one would ever find me down there. But I told myself to calm down, started to pound on the door, and shouted out "hello". Then I heard a man's voice. I was so relieved. He helped me to the elevator.
Although it was a scary moment at the time, in retrospect it was a minor event. I recovered. I put it behind me and I continued to enjoy the day.  And I plan to go back. I will not let Usher win.