Calling All Experts
December 31, 2015
by Nancy O'Donnell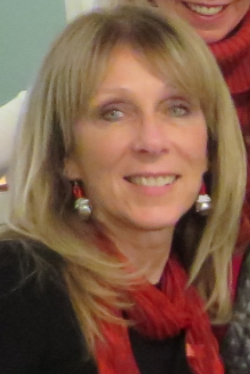 A big hello to everyone in the Usher Syndrome Community! This is Nancy O'Donnell (sign name "N" on left side of chest), and I am so thrilled to be blogging as the Coalition's brand new international registry director. Some of you may know me from my many years with the Helen Keller National Center (HKNC). I left the Center in August, seeking new challenges and opportunities. And because of the amazing success of the Usher Syndrome Coalition's "Own the Equinox," campaign, I now have this wonderful opportunity to work with all of you. Thank you.
I have been fortunate to work with youth and adults who are deaf-blind for many years. As a young volunteer learning sign language, some of my first mentors were adults with Usher syndrome. Later, as a daily living skills instructor, there were always students with Usher syndrome in my classes. They became some of my most incredible lifelong mentors and role models for perseverance, humor, spirit, creativity and determination. And it was from them that I learned about the impact of Usher syndrome in very practical ways. When we discussed how to set a tactile alarm clock, they stepped back when I signed so that they could better see my signs in their visual field. When we sat down to play board games, they held on to my wrist to "track" my signs. When we worked on folding paper money for identification purposes, I slowly signed the number 1, 5, 10 or 20 into the crook of their hand as they transitioned from visual sign to tactile sign.
In addition to "signers," I worked with students with Usher II and possibly Usher III (although at the time, we probably didn't know it) who communicated aurally/orally. We found quiet corners to meet so that background noise wouldn't interfere with our lessons. I learned about cataracts and white outs, taking time to adapt when coming in from outside, wearing hats with "bills" (like baseball caps) to protect the head and face from unseen objects like tree branches dangling in the middle of nowhere. We played cards with raised print, tried watches with raised dots and felt for ridges on coins to use in vending machines.
It was through this work that I learned about the progression of Usher syndrome, the ongoing and unpredictable loss of vision that was the hallmark of RP (retinitis pigmentosa), and the functional and emotional impact of these changes in their lives. It was from those living with Usher syndrome that I learned about the impact of deafness and vision loss on one's ability to navigate the environment, manage a home, retain a job, raise a family and remain socially connected to their community, whether it was the hearing community or the Deaf community. The genetics of Usher syndrome became real to me when their deaf-blind sisters and brothers came to the Center for training, or when their sighted-hearing parents, siblings or children came to visit.
In later years, my experience in administration included managing a national registry. It was through the registry that I learned the power of numbers and how statistics could be used to advocate for funding and services, as a tool for research, or as a way to connect individuals with similar, rare syndromes. I understand the importance of confidentiality and am a certified member of a research review board for a local college.
And now…
As your new international registry director, my immediate goal is to learn everything I can about the Coalition. I have spent my first few weeks reviewing our mission, history, informational and promotional materials, and the gold mine of information that we have on our website. I've been reading research, blogs, and success stories. I have met a few Coalition board members and researchers on the phone. But what I really look forward to in the coming months is meeting the EXPERTS - YOU! Every person living with Usher syndrome is an expert. Each of you has a story. Each of you holds your history and your family's history in your heart. Whether you are young and newly diagnosed, or a senior citizen, YOU hold a unique piece of the Usher syndrome puzzle. Without you, we won't have a complete picture or complete understanding of this unique syndrome.
It is estimated that there are approximately half a million EXPERTS with Usher syndrome around the world and we hope to register each and every one of you. Every one! I'm up for it. Registering is simple through our website and involves no commitment or promise to do anything except to be recognized as a person with Usher syndrome. The registry is confidential and we follow HIPAA guidelines.
If you are in the registry, you will be the one we notify with the latest information, and you will learn about opportunities to participate in surveys and studies. You are the one who decides whether to participate or not - it's always up to you.
Separate from the registry, we have established a Family Network. This is a way for individuals and families to connect with other Usher families for support. For more information on this great networking opportunity, check our website.
Other news
As you know, because we are an international organization, we are committed to making materials available in a multitude of languages. Because there is a large group of adults with Usher I whose primary language is American Sign Language (ASL), we will now be adding ASL to that list. In fact, this blog is available as a vlog on our YouTube channel.  
We also now have a videophone (VP). We want to hear from you directly, so please call us via VP at 631-533-9621
2016 begins in less than 24 hours. There is a lot of exciting work to be done and we are Calling All Experts - each and every one – to join us in 2016. Let's see the amazing things we can accomplish, together, as we continue to Own the Equinox.
Happy New Year!